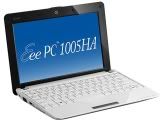 Whilst official launch details or pricing has yet to be revealed, the Eee PC 1005HA Seashell has now been spotted for pre-order. BeachCamera.com has the unit up for pre-order with prices starting at a very reasonable $350. The 1005HA Seashell has a removable battery and is slightly thicker than the 1008HA Seashell.
Whilst there is no mention of the 1005HA-H and 1005HA-M SKUs, there will be two different models offered by the retailer. The configuration, which includes a 1.6GHz N270 Atom CPU, will cost $350 and is available in black or white. For a slightly faster CPU, 1.66GHz N280 processor, this will set you back $389 and will come in black or blue. There's no signs of the Eee PC 1005HA's pre-order availability in the UK right now.
Via Portable Monkey.