June 14, 2009 at 10:42 pm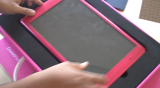 The CrunchPad is a 12-inch tablet device being designed by TechCrunch founder Michael Arrington. Unlike other types of tablet devices, the sole purpose of the CrunchPad is to be an internet device. It comes with no physical keyboard or hard drive and boots directly into a browser.
A prototype version has been caught on video with a very short unboxing. This is the older design that is seen, the newer version comes with a flush display and appears to be much thinner. The unit wasn't switched on unfortunately, with the host claiming that there wasn't a network connection.
The near-final packaging is showcased and it looks like the colour of the packaging will match the actual colour of the CrunchPad you buy, pink in this particular case. The device will be out this year according to the host and I was a bit perplexed to see a huge Bing sticker on the back of the CrunchPad. Check out the video after the jump.