June 14, 2009 at 11:21 pm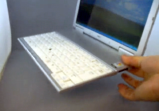 NEC recently announced what is probably the thinnest and lightest 10-inch netbook that I've come across. The VersaPro UltraLite VS has a 10.6-inch (1280 x 768) screen and comes with a 64GB SSD. It measures just 19.4mm at its thickest point and weighs only 725g. The guys over at IT Media managed to get hands-on and watching the videos demonstrates just how light this netbook is. The guy is lifting this up with just two fingers at its outer edge!
There's no room for a touchpad on this device, so you'll find a trackpoint instead, which I prefer anyway. It does only come with 1GB of soldered RAM though which is an annoyance, especially considering its 98,000 Yen (£606, $995, €712) cost. However, what you do get for that price is an 8-hour battery life, strong build quality and a quiet and cool machine. Check out the video after the break.
Via Portable Monkey.