June 19, 2009 at 10:35 am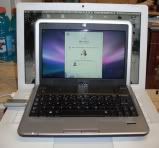 For the security conscious Dell Inspiron Mini 9 users out there, this is a mod you may want to pay attention to. MyDellMini user Rich2871 modded his Dell Mini 9 netbook with a fingerprint scanner embedded to the palm rest. Be warned though, Rich2871 is quite experienced when it comes to mods. His Mini 9 already includes a 64GB SSD, an internal 4-port USB hub, and OS X.
He ended up taking an external USB fingerprint scanner, taking out the main components and connecting it with the internal USB headers of the Dell Mini 9. That's even before you hack a hole in the case! Judging from the procedure it doesn't like a particularly easy mod, however the finished result certainly looks impressive.
Via Portable Monkey.