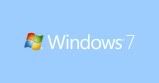 We should be thankful that Microsoft finally came to their senses regarding the three-application limit in Windows 7 Starter Edition, which has now been reversed. Windows 7 Starter Edition will mainly be found in netbooks when the operating system launches in October. As a result, the license is expected to be significantly cheaper, than for example, Windows 7 Home Premium.
As a cheaper SKU, you obviously expect some compromise, so that Microsoft can try to up-sell pricier versions of Windows 7. One of these compromises was the three-app limit (now removed) and another is the inability to change desktop wallpaper. We've commented in the past how ridiculous this is, but now we have heard that Microsoft has even forbidden its partners and OEM's to change the wallpaper.
OEMs often change the desktop wallpaper before shipping netbooks to one of their brand, in fact most do that I've come across. What this means is that we will be stuck with whatever image Microsoft decides to use for the Starter Edition. Now I can understand that for end-users, Microsoft is trying to make them upgrade, but I really can't understand what reason Microsoft would have to restrict personalisation options for OEMs.
The actual image used for the Windows 7 Started Edition desktop is still a mystery right now. The cynic in me suggests that I wouldn't bet against Microsoft using something reasonably bland.
Via Within Windows [via The Register].