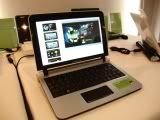 Nvidia's Tegra platform was really only brought into the limelight at the recent Computex show in Taiwan, despite being introduced last June. The Tegra platform is different to ION in that it pairs an ARM-based processor with an Nvidia GeForce GPU (ION pairs an Intel Atom CPU with the Nvidia 9400M graphics). Whilst Nvidia has done well in getting the ION brand out into people's minds, it looks like Tegra is set to follow. With some high profile devices, like the Zune HD, sporting the Tegra platform, it's expected to become even more popular.
Nvidia claims that the Tegra processor is the "world's smallest and lowest power computer-on-a-chip". The chip will be able to handle 1080p video and will come with a massive battery life. Nvidia claim that it can handle 10 hours of 1080p video playback on a single charge.
PC Pro managed to get hands-on with this new technology with the Mobinova N910 smartbook and was able to confirm that it could handle HD video content "without so much as a whimper". The platform also benefits from tiny power consumption. Bill Henry, the head of the Tegra Mobile Business Unit, claimed that playing standard-definition video drew only 200mW from the 24W battery, with this figure rising to 500mW at 1080p. At its maximum, the chip should never end up drawing more than 1W. To demonstrate this point, he showed a web page using Flash and claimed that it was drawing just 150mW, compared to 15W and 35W for standard laptops.
However, they weren't too convinced with the form factor. The N910 looked like a smaller, slimmer version of a normal netbook, although the keyboard and touchpad were found to be cramped. This made it quite uncomfortable to use. However, on the plus side, Henry said that it will be cheaper "than any netbook in the marketplace today".