June 23, 2009 at 11:38 pm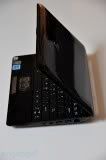 The Asus Eee PC 1005HA netbook was officially launched in the US market today. Two SKUs have been announced, the 1005HA-V and 1005HA-P. The 1005HA-V comes with the 1.6GHz N270 Atom processor, a smaller capacity 6-cell battery and no Bluetooth. The 1005HA-P has the faster 1.66GHz N280 processor, a higher capacity 6-cell battery and Bluetooth. Overall, the Eee PC 1005HA is part of the Seashell family and therefore shares the design seen in the super-thin 1008HA Seashell.
It differs mainly be having a removable battery as well as a full-sized VGA port. You won't find any flaps covering the ports on the 1005HA either. To account for the removable battery, the 1005HA is marginally heavier and thicker than the 1008HA. A number of publications released their reviews of the 10-inch Eee PC 1005HA netbook today.
Engadget found that it performed nearly identically to the 1008HA. The keyboard and touchpad were a joy to use and they managed to get 8.5 hours out of the 6-cell battery. They feel it is a good addition to the Seashell line-up and that the changes made are positive ones, even better considering the fact that it is $40 cheaper.
Laptop Mag views the 1008HA as the "most well rounded Eee PC to date". In particular, they cite its attractive design, good keyboard and strong battery life (lasting nearly 9 hours). They still prefer the Toshiba NB205 as their number one netbook choice, but the 1005HA is a close second.
Computer Shopper awarded the 1005HA an "Editors' Choice" award and scored 8.8. Whilst they found it to be a fingerprint magnet and heavy, hits value positioning, stylish design and long battery life more than compensated for it. Lastly, Liliputing also found it to be a model that's well worth checking out.