June 23, 2009 at 12:28 pm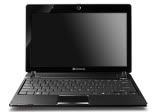 Acer owned, Gateway, has launched an 11.6-inch netbook of its own that may rival Acer's Aspire One 751. However, the Gateway LT3103u is a very different beast compared to the Aspire One 751. For one, rather than packing in an Intel Atom processor, the LT3103u goes for an AMD CPU (somewhat rare in the netbook space). You'll also find discrete graphics in the form of the ATI Radeon X1270.
The LED-backlit 11.6-inch screen comes with a high resolution of 1366 x 768 pixels. It's a very slimline model measuring just 1.03-inches in thickness and weighing 1.4kg (3.04lbs). It has a full-sized keyboard and multi-touch touchpad. It is powered by a 1.2GHz Athlon 64 L110 processor and the X1270 graphics comes with 256MB of dedicated memory.
Other features include up to 2GB RAM and 250GB HDD, card reader, 0.3MP webcam three USB ports and a 6-cell battery. You won't find Windows XP on this device, only Vista Basic. It will be available in two colours (NightSky Black and Cherry Red) when it launches shortly for $399.99.
Via Engadget.