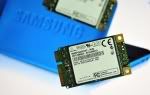 Samsung is working with a number of manufacturers to implement a newly designed SATA mini-card SSD in netbooks and other devices. The SSD comes in a mini PCI Express form factor with a SATA 3.0GB/s interface. This drive has a sequential read rate of 200MB/s (megabytes per second) and writes data sequentially at 100MB/s, which is extremely fast.
The drive should run cool as it is manufactured with 40nm technology, this also makes it power frugal, consuming just 0.3W of power. It is nearly 80 percent smaller than normal 2.5-inch drives, measuring 30 millimetres (mm) wide, 51mm high and just 3.75mm thick. It also only weighs up to 8.5g and comes in capacities of 16GB, 32GB and 64GB densities.
Samples are current with manufacturers at the moment and standardisation could be expected as early as the third quarter this year. The press release talks of using these devices as part of a Hybrid storage solution (SSD as main memory and HDD as supporting storage space), however I'm not sure how this will work in netbooks since Microsoft seems to be banning hybrid storage netbooks that run Windows XP.
Via OC3D.