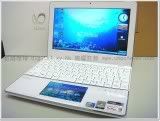 Sharp's 10.1-inch Mebius PC-NJ70A netbook is the first in the world to feature a touchpad in the form of a LCD display. This secondary display comes with a resolution of 854 x 480 pixels that one can use to play games, edit photos as well as use as a notepad. As you can imagine this tech doesn't come cheap, at around $1,000.
This is despite the fact that apart from the LCD optical touchpad, you'll find typical netbook specs under the hood. This includes a 1.6GHz N270 Atom CPU, 1GB RAM and a 160GB HDD. UMPC Fever has managed to get hold of a Mebius NJ70A and shot an unboxing video.
The massive Mebius logo doesn't look too tasteful in our eyes and upgradeability seems to be relatively catered for too. The video is in Cantonese, but includes English text to help you know what's going on. Check out the video after the jump.
Via Slashgear.