June 26, 2009 at 10:20 pm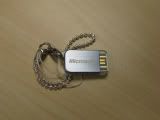 Microsoft is currently considering a number of options on how it plans to upgrade its netbook customers to Windows 7. The complications arise from the fact that netbooks do not have optical drives, which is the most common way to upgrade a Windows OS. Cnet reports that one of the upgrade options includes shipping the Windows 7 upgrade program on a USB flash drive.
So far Microsoft has nothing to announce regarding its preferred option, although other ideas include allowing buyers to download a version onto a USB drive themselves. Or an external drive could be used to hook up to the netbook. Another issue is that since most netbooks come with Windows XP, you will have to do a clean install if you are upgrading to Windows 7. This requires a user to do a complete back-up of their files and applications.