June 29, 2009 at 10:30 pm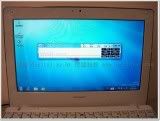 The guys over at UMPC Fever have been busy modding their Sharp Mebius NJ70A which was unboxed just last week. If you remember, the Mebius NJ70A is the first netbook to feature a touchscreen LCD as a touchpad. SKY from UMPC Fever has now modded the main 10-inch display and replaced it with a touchscreen display.
He has loaded the netbook with Windows 7 to make use of the touch features of the new OS. SKY also discovered that the optical touchpad has its own CPU and RAM, whilst taking the netbook apart. He also found two RAM slots, which means upgrading the 1GB standard RAM is quite easy. Check out the dual-touchscreen Sharp Mebius NJ70A in action after the jump.
Via Slashgear.