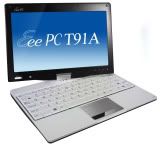 Asus has a lot riding on its first convertible netbook, the 8.9-inch Eee PC T91. It is their first netbook to have a swivel screen that can also be used as a tablet device. We know that several different versions of the T91 are planned, including the 3G-enabled T91GO. We also know that a Windows 7 multitouch version is planned from our conversations with Asus. However, what we didn't know were the model numbers and specification differences.
According to AsusTablet, the standard version (T91) will be followed by the 3G T91GO, which will also have GPS and a digital TV Tuner. The multitouch Windows 7 version will use the model name T91A. The Eee PC T91GO will weigh 0.06kg heavier than the standard SKU at 1.02kg, probably to account for the weight of the TV Tuner.
As things stand, we have no idea when the T91GO will release, or even if an UK launch is planned. From our conversations with Asus, the T91A will probably not launch until the end of Q3 at the earliest. The standard Eee PC T91 is expected to launch at the end of this month for £449.
Thanks John!