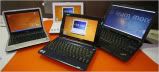 Netbooks have seen explosive growth since they first launched onto the market around two years ago. It's been one of the few technology segments where growth has been sustained during these tough economic times. Due to its success, it seems that everyone wants a slice of the pie. Because of this there has been huge competition in this space, albeit with a lot of 'me-too' products with similar specs and uninspiring designs.
Therefore, it is probably no surprise to learn that netbook demand in H1 2009 failed to live up to some manufacturers expectations. The result of this is unsold inventory and margin dilution due to high competition. Some of these vendors have already significantly reduced their netbook Research & Development expenses as well as lowering marketing budgets.
A number of white-box netbook vendors in China have already quit the market amid a cooling netbook market. Some have also received engineering samples of the new Intel Atom N450 Pineview processor, but will not start mass production of their own devices until Q1 2010. As a result, they will not be aggressively pushing newer netbooks with Intel's latest Pineview N450 processor, until they see the launch line-ups from the biggest players first, such as Asustek and Acer. If this means greater differentiation between netbooks then I'm all for it.
Via Digitimes.