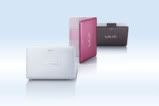 Sony has finally released its first 'proper' netbook by announcing the Vaio Mini W-series. Whilst Sony has always claimed that the Vaio P was not a netbook, there's not a chance they'll claim the same with the Vaio W, which fits the typical netbook mould.
The Sony Vaio W has a 10.1-inch high resolution (1366 x 768) LED backlit screen as standard. This is powered by a 1.66GHz N280 Atom CPU and 945GSE chipset. It comes with Windows XP, 1GB RAM and a 160GB (SATA) HDD. Other featured include Wi-Fi (including Draft-N), Bluetooth, webcam, microphone, two USB ports and MemoryStick / SD card readers. The three-cell battery should last around 160 minutes. There will be an optional 6-cell battery.
The design of the Vaio W doesn't deviate from the norm too much. It's quite a chunky netbook and has rounded edges. Open it up and you can see it is a premium model. The Sony Vaio W also comes with a very nice 86-percent chiclet (isolation) keyboard and dimpled palm rest that "resists stains and finger prints". The touchpad also has a patterned design. Overall, it reminds me a bit of the Toshiba NB200 on the inside.
The Vaio W will weigh 1.19kg, not the heaviest or lightest netbook, and have a thickness of 32.44m (Dimensions: 179.6 mm (D) x 267.8 (W) x 32.4 (H)). It will be available in three colours (sugar white, berry pink and cocoa brown) on launch.
The Sony Vaio W will launch across Europe in mid-August. In terms of pricing, the Vaio W is listed on the French Sony site for €449 but is listed for €499 in Germany and Italy. The Sony Vaio W will be should hit the US for around $500 according to the press release. We don't have confirmation on UK pricing right now.