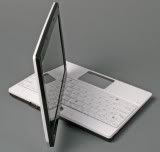 Update: Thought this was too good to be true. BuyDig has now changed the status from "In Stock" to "No stock Yet-Accepting Pre-Orders". Looks like we will be waiting until the end of the month before stock appears.
The Asus Eee PC T91 convertible tablet appears to have gone on sale at an US online retailer, at least two-to-three weeks earlier than expected. The T91 was not due to hit retail until "late July" in both the US and UK. Whilst we are still waiting here in the UK, US-based BuyDig now has the T91 listed as in stock and ready for dispatch for $499.
The Eee PC T91 netbook has a 8.9-inch (1024 x 600) display and a swivel mechanism that converts it into a tablet device. The particular model number listed is T91SA-VU1X-BK. The Eee PC T91 is powered by a 1.33GHz Z520 Atom CPU and comes with a 1GB RAM and a 16GB SSD.
So far, we haven't noticed any UK sites taking pre-orders of the Eee PC T91, although it can't be too long. For our initial impressions of the device click here.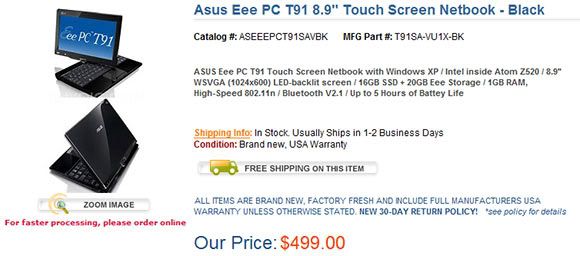 Via Portable Monkey.