July 15, 2009 at 11:25 pm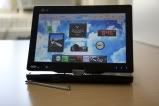 The Asus Eee PC T91 convertible netbook officially went on sale in the US today. To mark the occasion, quite a few US publications posted their reviews today. In fact, we counted nine reviews altogether, so for those mulling the decision to lay down $499.99 on this 8.9-inch net tablet, there's plenty of material to start your research.
The Eee PC T91 is one of the most anticipated netbooks to date. It is the first Asus touchscreen netbook and comes with a swivel mechanism so that it can be used as a tablet device. Asus has developed its own TouchGate user interface. Indeed it was the touch experience that caused quite a difference of opinions in the reviews.
The main point seems to be that using your finger to use touchscreen proves to be a frustrating experience. This is something we found with our recent hands-on of the T91 and was echoed by Gizmodo who said that the stylus had to be used for any kind of accuracy. Notebook Review also found it "easy to accidentally trigger the wrong icon" when using a finger. However, Brad from Liliputing found it to be "relatively responsive". Whilst the TouchGate interface does a good job for the overall touch experience, it may take Windows 7 and its dedicated touch functionality for the Eee PC T91 to really shine.
The 1.33GHz Z520 Atom processor was also found to be a weak point in the chain, especially considering the price. Benchmarks from most sites suggested that it sits behind N270-based netbooks and it doesn't seem to like playing 720P HD video content either. Another bug-bear of ours was the very glossy display and lid casing. The overall consensus was that the reviewers disliked it too. I'm still surprised that an accelerometer was not included in this device, a big oversight I feel.
Battery tests among the different sites varied although you are probably looking at around 4 hours of life on average. Liliputing managed 3 hours and 45 minutes, which was broadly the same as GottaBeMobile who managed 3.5 hours. Cnet's battery test lasted 4 hours and 20 minutes whilst Notebook Review's battery test lasted 4 hours and 20 minutes. You can check out all of today's Eee PC T91 reviews below.
Asus Eee PC T91 Reviews:
CNET
Engadget
Gizmodo
GottaBeMobile
Laptop Mag
Liliputing
HotHardware
Notebook Review
PC Mag