July 28, 2009 at 11:12 am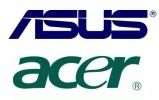 Two of the biggest netbook manufacturers, Asustek and Acer, will not be releasing any new netbook models in the second half of 2009 according to Digitimes. Both companies will instead concentrate on its CULV-based ultra-thin line-up during H209. The move by Intel to delay the launch of its Pine Trail platform (including Pineview processor) to Q1 2010 is one of the reasons both companies new netbook models have been pushed back.
This does not extend to models already announced, therefore Asus will still be launching its Eee PC T91 and T101 touchscreen netbooks. The report also suggests that an Asus Android model will launch in the second half. However, previous reports suggested we would not see an Asus Android netbook until Q1 2010 at the earliest. The Eee PC T101 is expected to launch after the launch of Windows 7 (October 22nd).
Acer will let its 10-inch Aspire One model fly the flag for Acer in H209 and it continues to reduce netbook marketing budgets and R&D spend in this area. Acer did announce an Android netbook that would dual-boot with Windows XP. The report says that the launch of this model has been postponed from its pencilled-in August launch date due to weak demand. There was no mention as to when it would likely launch instead.