July 31, 2009 at 11:43 am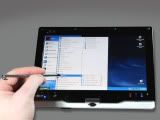 Update: Good news. We have just received direct word from Asus that the Eee PC T91's have now arrived in distribution and will hit the UK etailers mentioned below next week. Thankfully no wait until the end of August then!
The Asus Eee PC T91 convertible netbook has suffered a number of delays in the UK. It was originally scheduled to be released in late May/early June, it then got put back to "early July" and then "late July". We now have word from Asus, that the Eee PC T91 will "be available by end of August".
At the recent Asus press conference, we were assured by company reps that it would definitely hit that "late July" deadline, but it looks like its hit a snag somewhere, prompting another delay. At the time, the delays were explained by trying to get the software just right.
Whilst this is disappointing news, you may be happy to know that the pre-order price of the 8.9-inch Eee PC has dropped to £409.00 from Amazon
. It was priced at £449.00 just earlier this month. Laptops Direct also has the T91 on pre-order, for £429.97. Ebuyer is also set to get in on the pre-order action soon.