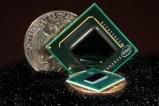 Netbooks will stop featuring the energy efficient Intel Z Atom processors, like the 1.33GHz Z520 and 1.6GHz Z530, according to a report from Digitimes. Apparently, Intel has informed all of its customers that it will no longer be accepting orders for these processors if they are to be used in netbooks. The company will still fulfil orders already made by netbook heavyweights such as Asustek, Acer and Micro-Star International (MSI).
Intel wants to completely end the supply of the Z Atom CPUs before the end of 2009. It wants to clearly define the netbook and MID segments and wants these chips to be used in MIDs only. Intel has made the move before completely running down its inventory levels.
To be honest this is hardly surprising news. The new N450 Atom Pineview processors, to be released during the fourth quarter, will take up the mantle of energy efficient chips for the netbook segment. Given its release and likely lower pricing, the writing was always going to be on the wall for the Z Atom CPU.
The most interesting part is what happens to existing models based on the Z Atom. We already know that MSI will not be producing any more Wind U115 netbooks due to Microsoft banning netbooks with hybrid storage. However, what happens with the Asus Eee PC T91 & 1101 and Dell Mini 10, which are based on Z520 and Z530 processors, is anyone's guess. Either a move back to N270/N280 Atom chips is an obvious choice or maybe Intel will provide some sort of bridge until Pineview is released.