August 3, 2009 at 5:20 pm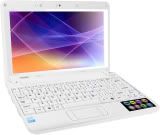 Prolink, the South Asian company more known for its networking products, has jumped onto the netbook bandwagon with a fairly uninspiring device. The Prolink Glee TA-009 has a 10.1-inch (1024 x 600) LED backlit display and its main point of differentiation is price. It is one of the cheapest WWAN-enabled netbooks in the market at S$699 ($488, €338, £288), which is significantly below the competition (the 3G-enabled LG X120 costs S$800).
It's a lightweight model at 1.11kg although it's still reasonably thick at 30mm. It comes with a 3-cell 2200mAh battery that should be good for 2.5 hours of battery life. A 6-cell 2400mAh battery should last around 6 hours according to the company.
You'll probably know the specifications off by heart by now. It is powered by a 1.6GHz N270 Atom CPU, 1GB RAM, 160GB HDD. It comes with a 1.3MP webcam, three USB ports, 4-in-1 card reader, Wi-Fi (b/g) and optional 3G. No Bluetooth is a tad disappointing, plus we're not big fans of mouse buttons on either side of the touchpad. Apart from that if it takes your fancy, it should be available in Singapore now for S$699 with the 3-cell battery.
Key Features:
Intel Atom N270 Processor
LED Backlight
Tipping at approx 1.1Kg
84 US Keys with Windows Functions Keys
Built-in Microphone
WiFi Compliant
3.75G Ready
Built- in Card Reader — Memory Sticks (MS-Pro), Multimedia Card, Secure Digital
Built-in 1.3M Webcam
Stereo Speakers
Via Crave.