August 18, 2009 at 12:38 pm
The manual for Samsung's ION-powered N510 11.6-inch netbook has now appeared on the official website. With a release date expected at the beginning of September, the manual's release is certainly timely.
We've been pouring through all of the pages to find out any new information. Whilst the specifications page doesn't list detailed specs, it does give the first confirmation that the N510 will be running on the DX9-compatiible ION LE platform, rather than the DX10-compatible ION. In real world results, I'm not sure whether this will make too much difference, but it's worth pointing out. We also know that it will be using the nVidia MCP79-D9 chipset.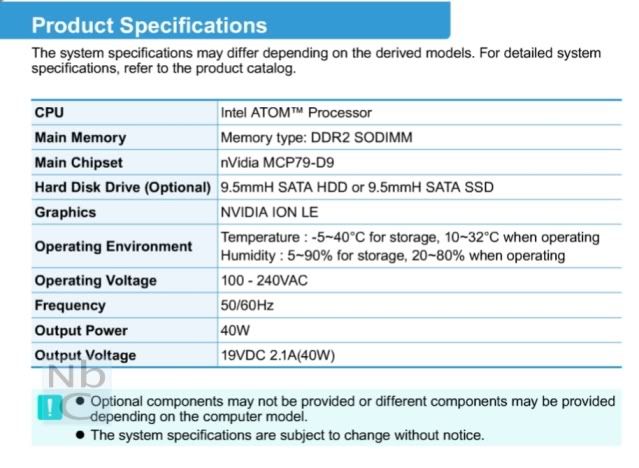 We've attached a number of pictures of the N510 below which highlight exactly where all of the ports are located and an idea on the keyboard and mouse layout. The keyboard looks very similar to the Samsung N120, with a right Windows key (annoyingly) and full sized-right shift key. It also seems that the mic will be placed just above the keyboard, which we wasn't fond of in the N120.
This picture gives a close-up of the mouse pad, which uses a single rocker bar underneath. The status lights highlight use for caps lock, HDD, Wi-Fi, charging status and power.
The left side shows the Ethernet port, VGA, HDMI-out and chargeable USB port.
On the right side of the N510, you can see the power button, Kensington lock, power input, two USB ports and a couple of audio jacks (headphone and mic).
The back of the netbook is pretty nondescript with only the lithium-ion battery showing.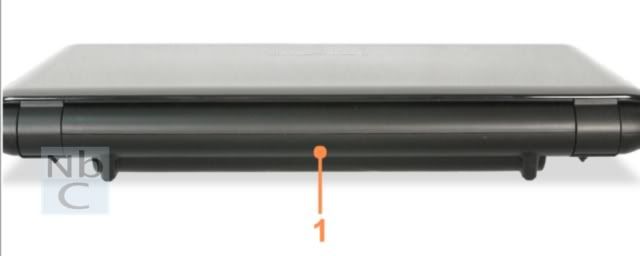 The memory card slot will be located at the front of the unit under the status light indicators.
Samsung will make upgrading easy. It has one big panel that can be unscrewed for easy access to the HDD and RAM module. You can also see the placement of two speakers at the bottom of the picture.
The picture below shows one RAM slot that can be upgraded to a maximum of 2GB. We're glad Samsung is providing pain-free access to the hard-drive, on previous models, the whole of the bottom needed to be opened to get access.