August 26, 2009 at 11:50 am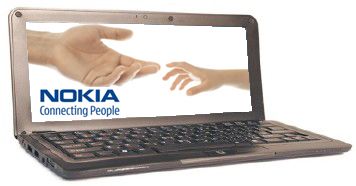 Whilst Nokia's Wintel-based Booklet 3G certainly took us by surprise, it looks like the device we always expected from them i.e. an ARM-powered smartbook is on the agenda after all. Digitimes is reporting that Nokia is planning to offer a smartbook, in addition to the Booklet 3G netbook, although it won't hit the market before mid-2010.
Nokia is expected to outsource production of the smartbook to either Compal (who is producing the company's Booklet 3G) or Foxconn (Hon Hai Precision Industry). It will be interesting to see exactly what chips Nokia uses to power such a device. Some suggest that Nokia won't launch a smartbook device until they have the powerful chips to do it justice.