October 13, 2009 at 8:15 pm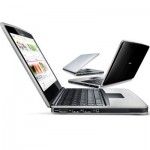 Nokia has teamed up with AT&T to sell the Booklet 3G netbook for an upfront cost of $299 as long as you sign up for a two-year data contract costing $60 per month (5GB data). As with most other carriers offering netbooks on contracts, the lifetime cost is not cheap. The contract itself will cost $1,440 over those two years and that's before adding the upfront cost of $299. However, AT&T has promised that other pricing options will also be available soon.
If you want to go it alone, then the Nokia Booklet 3G can be bought for the unsubsidised price of $599, exclusively (in retail) through Best Buy stores. Nokia once again emphasized a "true 12 hour" battery, but this is based on Mobile Mark '07, which doesn't use wireless activity in its tests. Therefore, I'd take that number with a pinch of salt. It will launch in the US with Windows 7 on October 22nd.
The Nokia Booklet 3G has a 10.1-inch (1280 x 720) display, measures just 20mm thick and is powered by a 1.6GHz Z530 Atom CPU. Other features include Bluetooth, HDMI-out and a 1.3MP webcam.