October 25, 2009 at 7:22 pm
The netbook form-factor has taken off for a number of reasons, this includes its value price offering, long battery life and compact chassis. For these reasons, many people take their netbooks on the move when a laptop just wouldn't be practical. Whilst this most often means carrying a netbook in a rucksack, the use in cars is set to become more prevalent going forward.
Whilst some may question the need for netbooks in cars, it can be handy for business people looking to respond to emails and one can also use them as a portable media player. Also, whilst GPS in netbooks is still few and far between, the emergence of smartbooks next year will see GPS functionality as standard in these devices. Ultimate-Netbook is looking to tap into this market by selling one of the few netbook car mounts on the market.
They were kind enough to send over the Universal Netbook Car Mount to review. It is designed for netbooks/notebooks with display sizes between 7-inches to 13-inches. Ultimate-Netbook is known for its value-for-money netbook accessories and the netbook car mount is no different, costing a reasonable £24.99 + p&p. As with their other products, the company ship worldwide.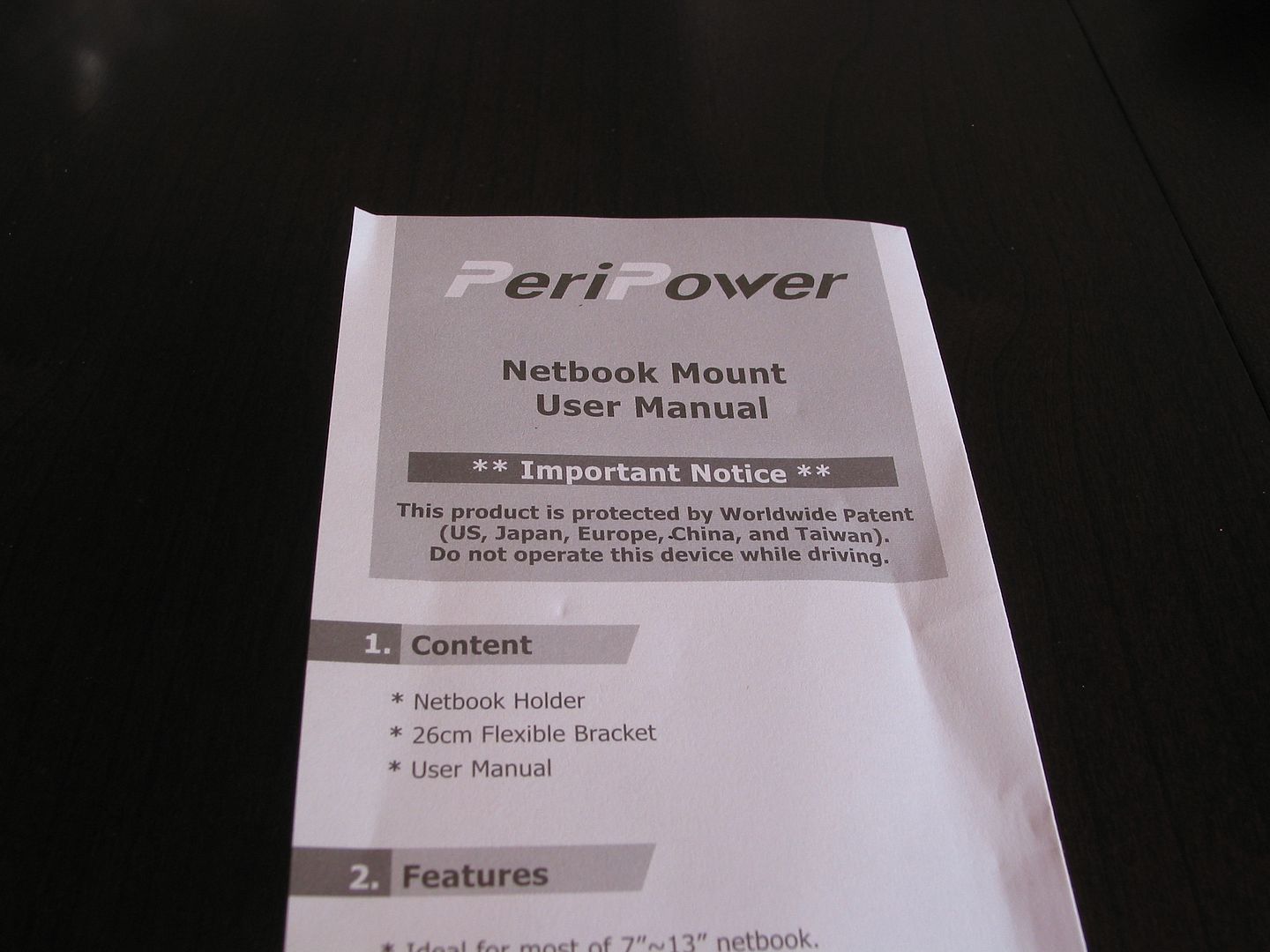 The netbook mount is manufactured by a Chinese manufacturer called PeriPower, who specialise in mounts for a number of different devices. Ultimate-Netbook is the sole European Distributor for this mount. As can be seen in the manual below, they emphasise not using a netbook whilst driving, surely that's common sense for most people?
Universal Netbook Car Mount Specifications:
Sudden Weight Load: 15kg
Constant Weight Load: 5kg
Suitable thickness of device: 20mm
Suitable width of device: 230-320mm
Operating Temperature:-40℃ ~65℃
Lever Lifetime: 10,000 times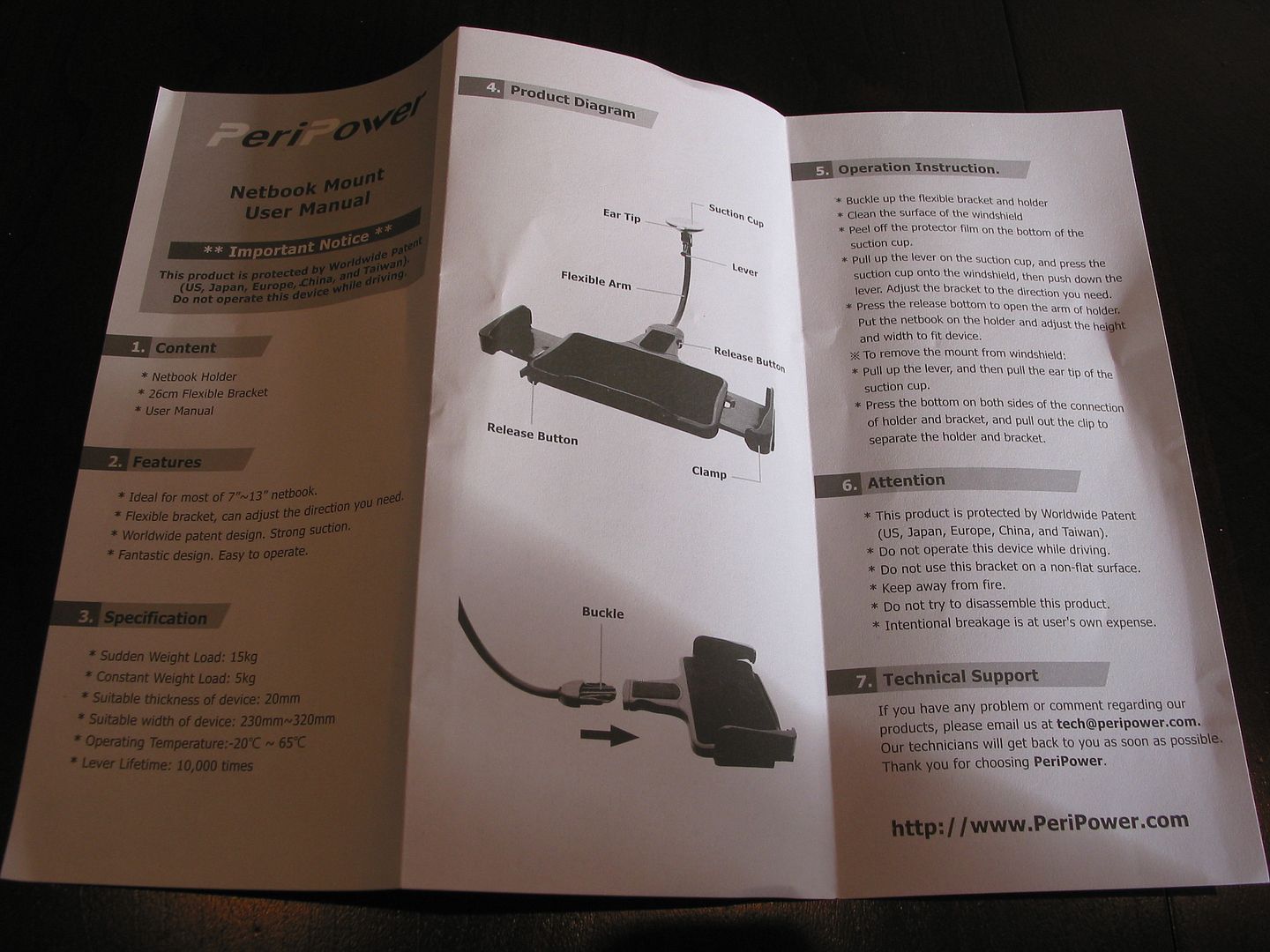 The mount comes in a plain white box with just two parts inside. You get a flexible arm with suction cup at one end as well as a flexible bracket that can be adjusted for netbooks of different sizes. It's nice to see not too many parts in the box that would only make the whole installation process much more complex.
The flexible arm is made of stiff rubber that is malleable enough to contort into any position needed. On one end sits a large suction cup and a plastic buckle sits on the other end.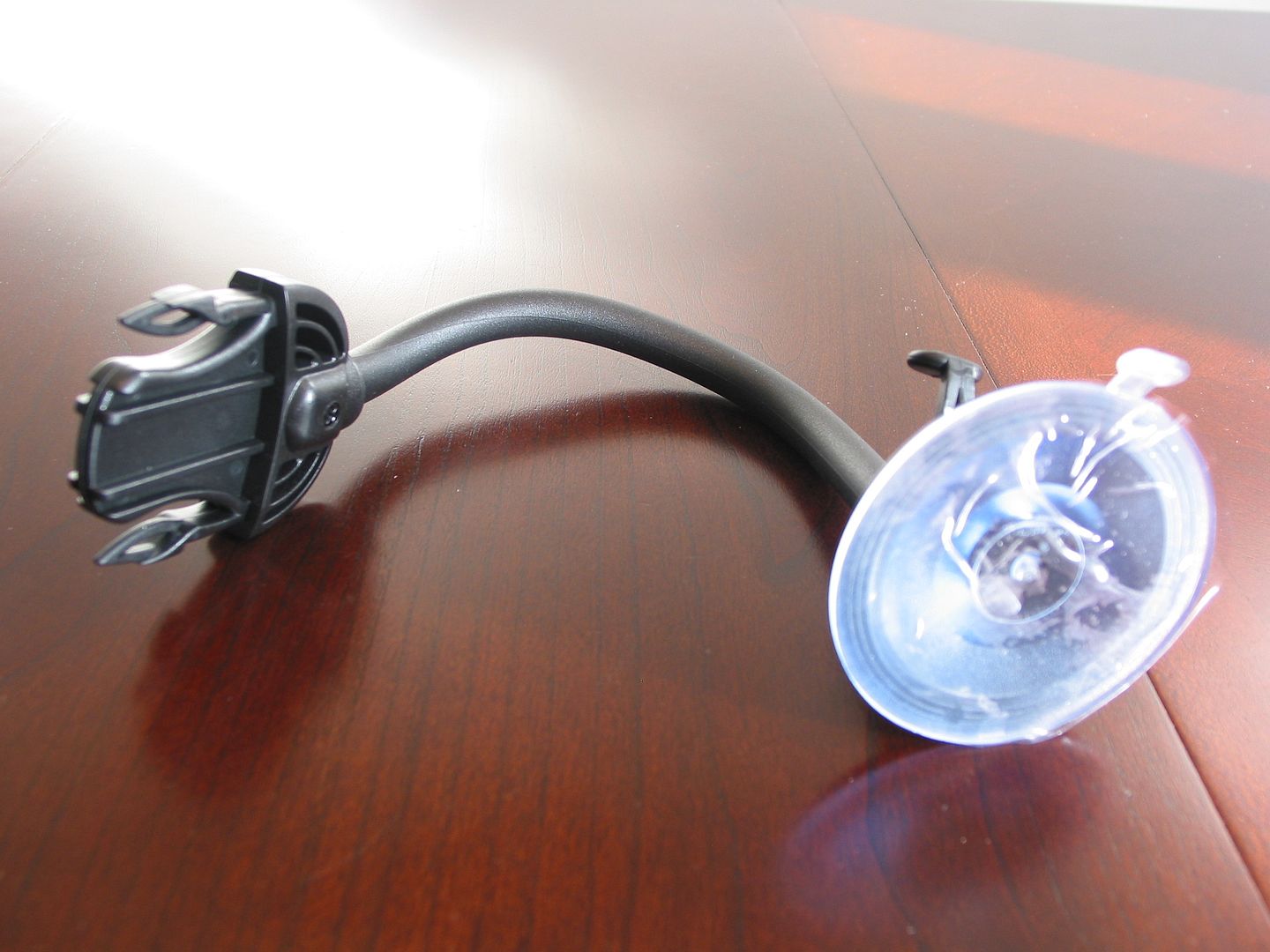 The rubber suction cup has a lever that is used to affix the arm onto your windscreen. The cup includes a small flap that is used to remove the mount once attached.
The netbook bracket is made out of plastic but has a foam middle to ensure the netbook doesn't scratch and helps keep it firmly in place once attached. The left and right sides are adjustable by depressing the release button that can be seen towards the bottom left.
By holding this button down you can widen the side to fit your netbook properly. It works on a ratchet system that makes sure the sides are 'locked' and don't budge when you're on the move.
The back of the bracket has a port where the flexible arms buckle clicks into. You can also see another strip of foam at the back that makes sure your netbook isn't scratched when opening the lid.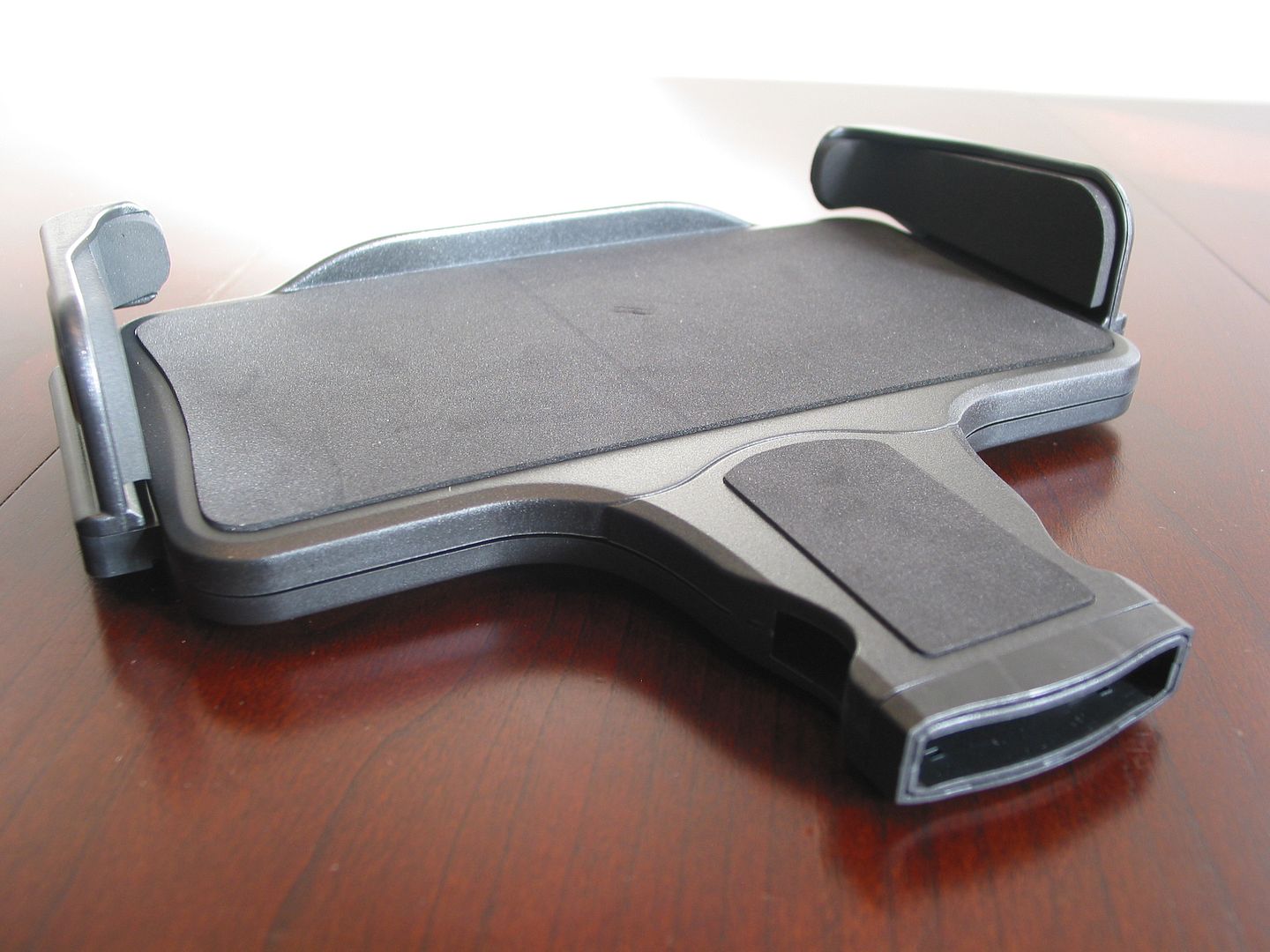 Installation is as easy as clicking the buckle into the netbook bracket. The buckle has release buttons on either side that means you can dismantle it just as easily. Luckily, the plastic was not too stiff that this process doesn't cause blisters!
Once clicked together all you then need to do is to attach the mount in your car via the suction cup. This bit can be fiddly to secure properly. The lever needs to be lifted just before attaching the suction cup, once attached the lever is lowered. As with any car mount, the main trick is creating enough suction to ensure it won't come off, even with force. The last thing you want is your netbook to fall off whilst you're driving! The good thing is that once attached properly it's very difficult to remove without lifting the small ear tip, removing the suction.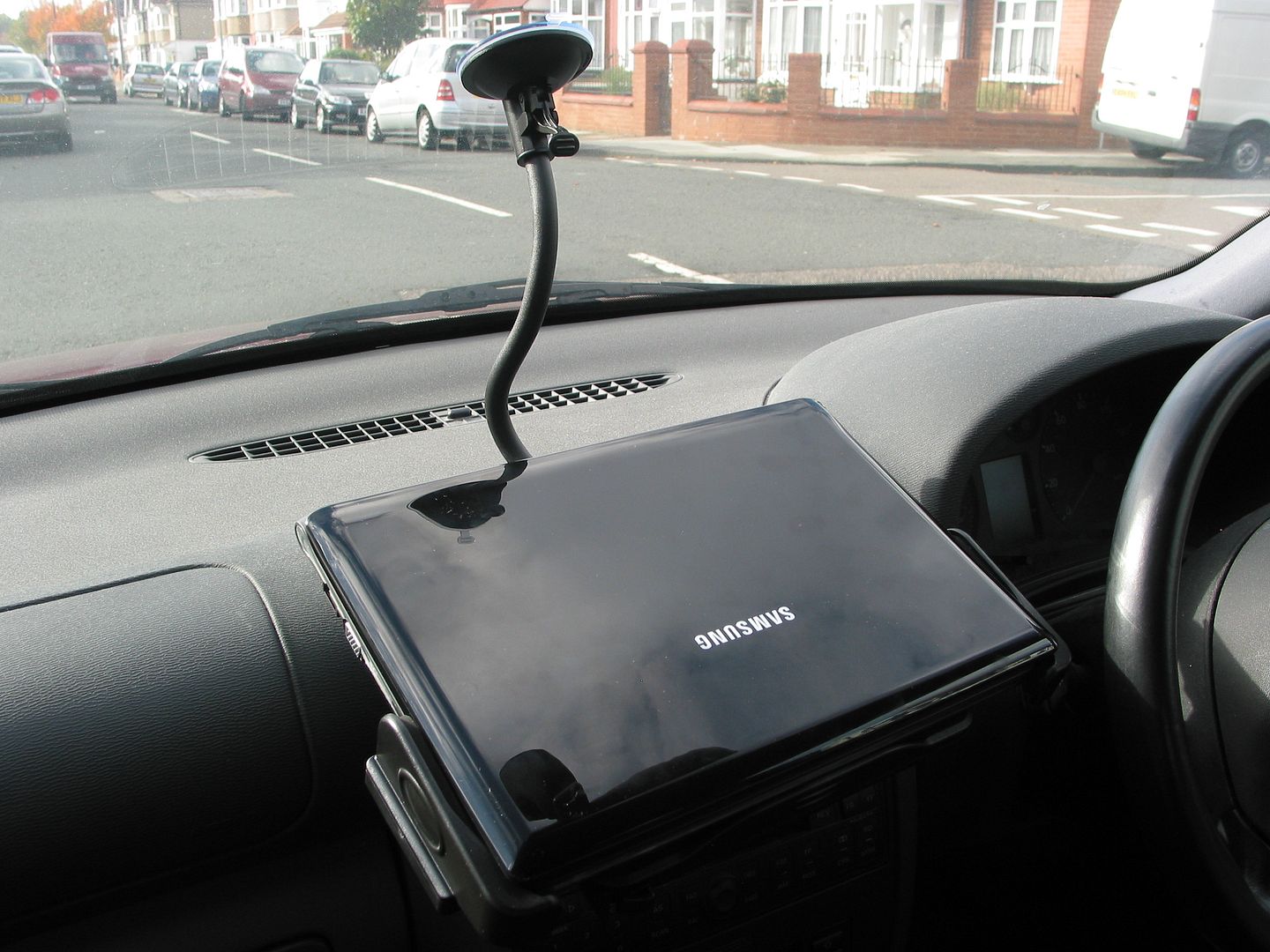 The left and right sides of the mount keeps the netbook secure. In this case we are using an 11.6-inch Samsung N510 without any problem. We also tested it with a Toshiba NB200 that has a protruding battery that also fit without hiccups. It should fit any device with a maximum weight of 5kg, although it can withstand a sudden load of 15kg.
It is also worth mentioning that the mount is not strong enough to be used without support. It is designed to be supported by the dashboard as a rest for the bracket. For example, this means that you wouldn't be able to stick this on a passenger window for watching a movie.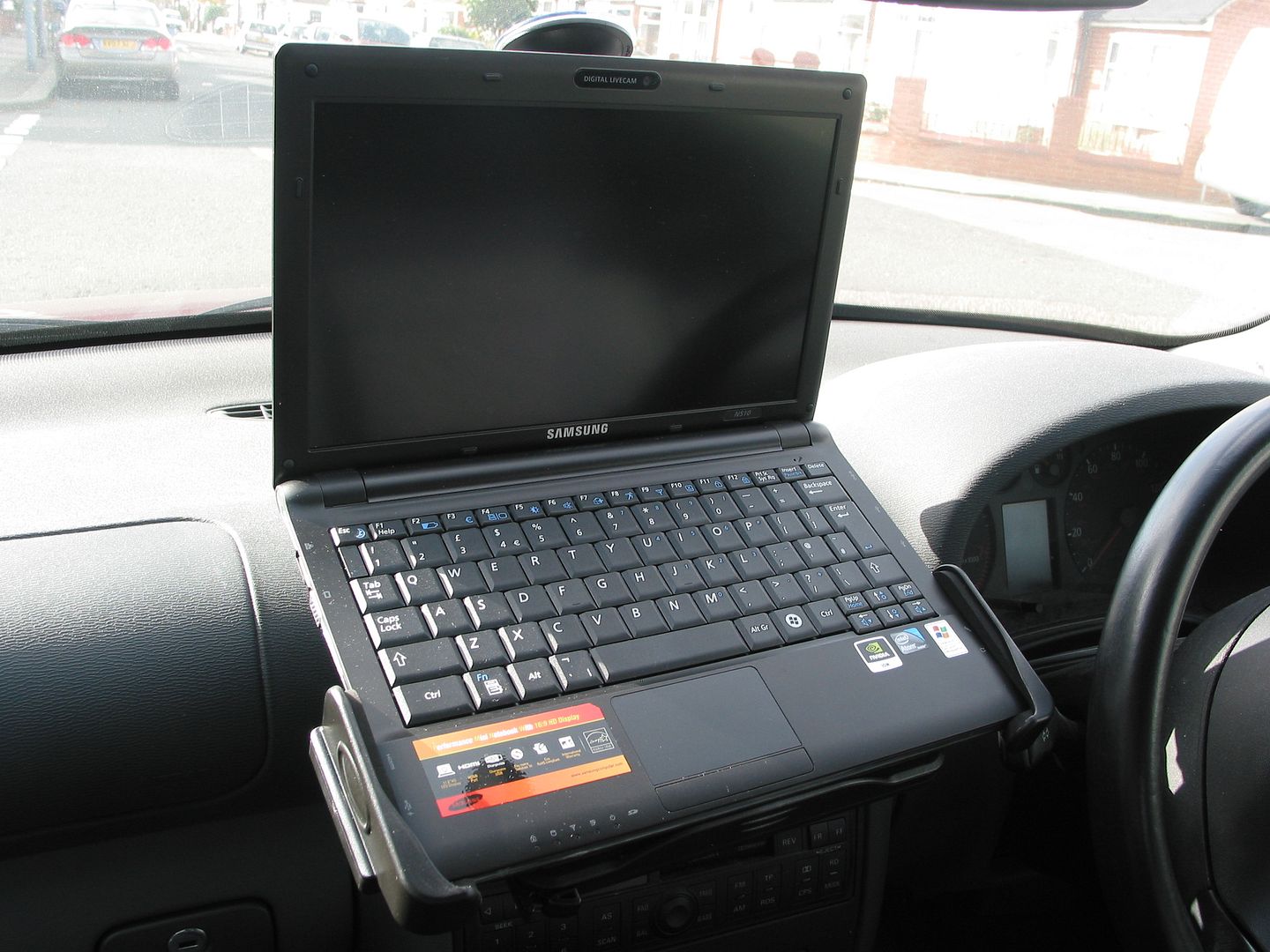 For those of you that may need to their netbook on the move, this is a keenly priced mount from Ultimate-Netbook. One of the great things about this particular mount is that it should fit a wide array of netbooks due to the flexible netbook bracket. It is also simple to use and install and as long as you ensure the mount is affixed properly you won't have any problems using it on the move. The Universal Netbook Car Mount is well made and great value-for-money. If you need your netbook with you whilst driving, we don't see any reason why you'd need to look elsewhere.
Many thanks to Ultimate-Netbook for sending through this mount for review! Ultimate-Netbook is a specialist retailer of netbook accessories and ship their products worldwide.