November 4, 2009 at 11:44 pm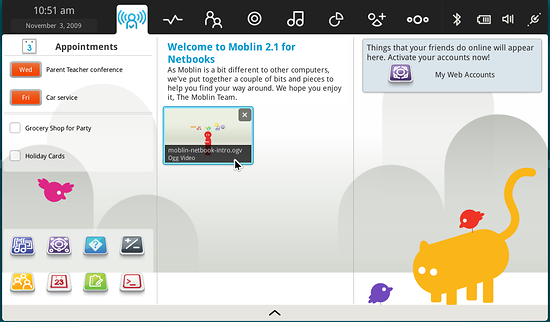 The project release for Moblin v2.1 is now available to download for Intel Atom-based netbooks (& nettops). The Linux Foundation must be working hard behind the scenes as it wasn't that long ago that they delivered v2.0.
This new release brings a number of significant improvements including 3G and Bluetooth (device discovery and pairing) support, enhanced browser functionality, UI enhancements, integrated Moblin Garage (online application store) as well as a number of performance and stability improvements.
We've listed the full Moblin v2.1 feature summary from the press release after the break. You can download Moblin 2.1 here or check out a number of screenshots of the new release here.
Moblin v2.1 Feature Summary
Internet Browser. After much work, we are including a new internet browser application that far exceeds our previous browser performance and adds full support for features such as plug-in support and add-ons. Many thanks to Moblin users and the developer community for their feedback and contributions.
3G Data Support. Support for 3G data connections using the Ericsson* MBM 3G modems. Support for additional 3G modems is planned for future releases.
Application Installer Integration. The Moblin Application Installer is integrated and provides a logically categorized list of applications that you can choose to install. The selection of applications that appears within the Moblin Application Installer comes from the Moblin Garage.
Clutter 1.0. With this new version of Moblin, we are releasing Clutter 1.0, the Moblin animation framework.
Bluetooth Device Support. Bluetooth device discovery and pairing now supported via a new panel in the toolbar, which supports Bluetooth audio devices, input devices (keyboards, mice), OBEX file transfer, and using a Bluetooth* phone as a 3G modem.
Connection Manager. Connection Manager (ConnMan) has significant modifications particularly in the areas of performance and reliability. The new version of ConnMan now supports Ethernet, WiFi, WiMAX, and 3G.
Nettop Support. UI scaling is provided for a wide range of nettop resolutions, including the ability to show more information in the Myzone panel based on the available screen space.
Improvements to Instant Messaging. Improvements have been included for Instant Messaging account setup, integration within the connection manager, and support for transparent connection to your friends on your local network.
Input Method Support. Input method support is now included across the system.
Localization. Moblin is currently localized in the following languages (English, Brazilian Portuguese, Spanish, French, German, Swedish, Finnish, Korean, Japanese, Chinese Simplified, Chinese Traditional). We also have a community translation project where Moblin is translated to additional languages by the community.
In addition, Moblin v2.1 includes several updated versions of key technology components that the Moblin developers worked on with the various communities; these include the Linux kernel version 2.6.31, Intel Linux graphics driver 2.9, X server 1.6.4, and Mesa 7.6. We are also providing updated documentation, sample code and updates to the Moblin SDK. Detailed Moblin UX help documentation is included in multiple languages along with updated Moblin SDK documentation and sample code.