November 12, 2009 at 9:03 pm
As expected, Qualcomm's CEO, Paul Jacobs, revealed one of the first smartbooks expected to hit the market. The device was announced at a Qualcomm investor day in New York. Information on the new device is sparse, however what we do know is that the new smartbook will be powered by Qualcomm's Snapdragon chipset, manufactured by Lenovo and sold in the US through AT&T.
There is a crude image of the device lifted from the investor webcast that shows a red device with a homescreen split into six widgets. Jacobs said that the device was thinner than a Palm Pre and it certainly seems very thin. The device will also have full Flash 10.1 support and sport a high-resolution display. A formal launch is expected during CES in January 2010. Check out the first image of the device after the break.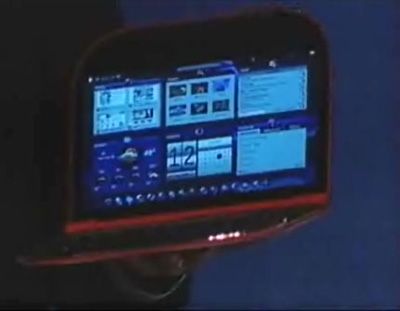 Via Electronista.