November 26, 2009 at 8:56 am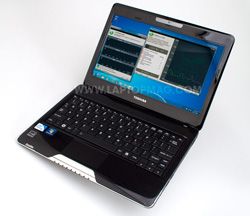 The Toshiba Satellite T115 (or T110 as it is known in the UK) is the company's first CULV-powered 11.6-inch ultra-thin. Just as many companies jumped onto the netbook bandwagon, it looks like we are seeing a glut of 11.6-inch ultra-thins too. This is great news for the consumer, helping to drive competition.
Laptop Mag has its review up of the T115 and found that it delivered better performance than Atom netbooks as well as over 7 hours of battery life. However, compared to the Acer Aspire 1410, it underperforms on most tests whilst costing $80 more. It does have a slightly better battery life but the keyboard is also not as comfortable. Overall, they feel it is still worth a look, but there are other models that offer better value for money. Click through for the main review points.
The model reviewed was powered by a 1.3GHz SU2700 processor, 2GB RAM and a 250GB HDD. It came with Windows 7 Home Premium, Wi-Fi (draft-N) and a 6-cell battery.
Key review points of the Toshiba Satellite T115:
The lid and deck of the T115 has a checkered Fusion Finish in Nova Black, although it is a fingerprint magnet. The design is solid and doesn't feel cheap.
The 6-cell battery raises the device up about half an inch, creating a small incline.
Heat isn't too much of a problem and was never uncomfortable on the lap.
The keyboard has large keys in the centre, although this didn't extend to the keys sitting at the left/right fringes. This includes a small Enter and right shift key, although you do get dedicated PgUp and PgDn keys.
The touchpad is of similar size to the Mini NB205/NB200 netbook. It is quite wide (3.0 x 1.5-inch) which means it you can easily browse pages without lifting your finger too much. Multi-touch gestures are also supported.
The mouse rocker bar only has good response on the outer edges unfortunately.
The 11.6-inch (1366 x 768) display has deep blacks and bright colours.
The speakers did not produce good sound.
The 0.3MP webcam left a lot to be desired producing dark images even in good lighting conditions.
The T115 managed a PCMark Vantage score of 1,453, beating the netbook average (1,107).
The system had a lengthy boot time of 1 minute and 45 seconds, 45 seconds longer than the average.
The ultra-thin scored 635 on 3DMark06, 200 points below the average. 720p video content wasn't smooth either, with small skips in playback. Hulu was watchable with the latest Adobe Flash Player 10.1 installed.
Games can be played albeit at low settings. World of Warcraft was playable at 1024 x 768 with 22fps.
The battery lasted for lasted 7 hours and 8 minutes, nearly 2 hours more than the ultraportable average.