December 21, 2009 at 8:39 am
Intel has officially unveiled its next-generation Pine Trail Atom platform. This comprises the 1.66GHz N450 Atom processor for netbooks and 1.66GHz D410 & D510 (dual-core) Atom processors for nettops. Both will use the Intel NM10 Express Chipset. The first devices featuring Intel Pine Trail will be available from 4th January 2010.
The new 45nm platform is a two-chip solution that integrates graphics and memory controller into the processor. The benefits of doing so include a smaller footprint and lower power usage. Intel is quoting that netbooks should use 20 percent less power with a 60 percent package size reduction. Nettops should see even bigger gains with 50 percent less power usage and a 70 percent reduction in package size.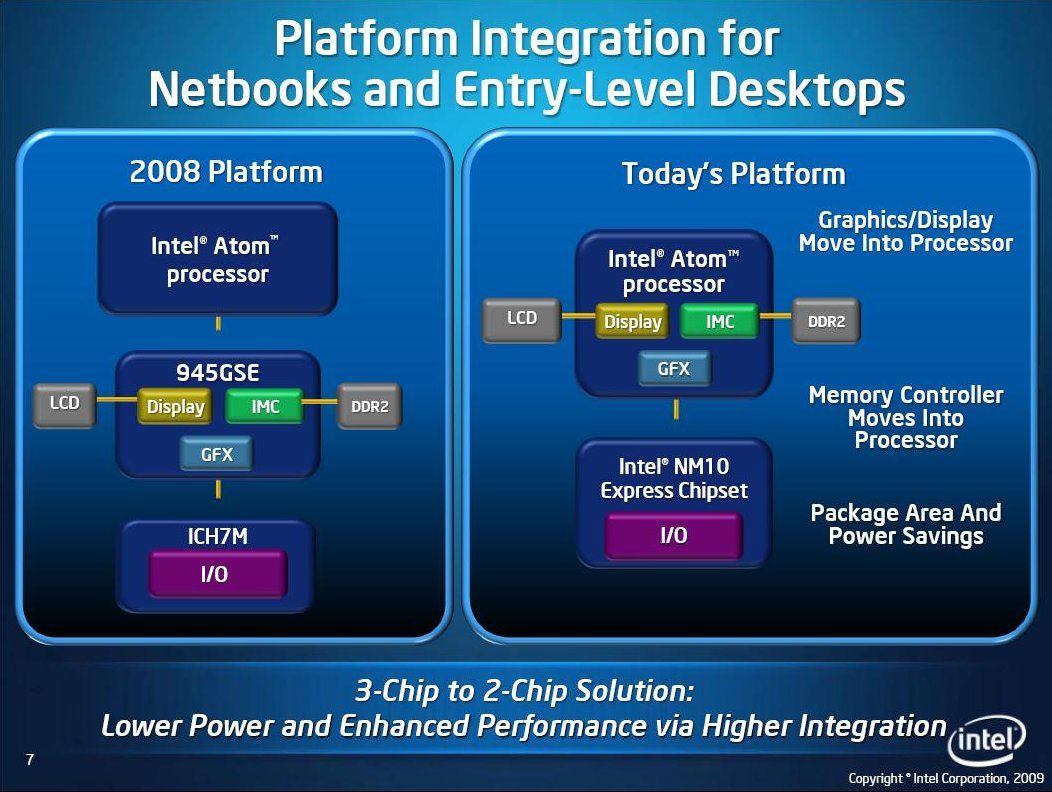 The 1.66GHz N450 Atom has a 512k of L2 cache and a 7 watt total kit TDP including chipset. The single-core 1.66GHz D410 Atom has 512k of L2 cache and a 12-watt total kit TDP, whilst the dual-core 1.66GHz D510 Atom comes with 1MB L2 cache and a 15-watt total kit TDP including chipset. Pricing is the only factor that hasn't been confirmed, further details are expected in January.
Graphics duty is taken care of by the Intel Graphics Media Accelerator (GMA) 3150. The GMA 3150 is DX9 capable and runs at 400MHz, however I don't expect you'd be able to do much gaming with it. Hardware acceleration is provided for MPEG-2 video although this isn't the case for H.264 and VC-1. Intel says that for full HD support you will need a third-party solution, much like Broadcom's BCM70015 decoder.
Intel says that it has over 80 design wins so far for the new Atom platform that includes netbook stalwarts such as ASUS, Acer, Lenovo, Dell, MSI, Toshiba, Samsung and Fujitsu. These OEMs will be offering the new platform with Windows 7 Starter / Home Basic and some will even be offering systems with Moblin Linux v2.
The video below shows Cindy Ng from the Intel Netbook Marketing Team demonstrating the Intel Atom Processor N450 for netbooks and the Intel Atom Processor D410 and D510 for entry-level desktops.
Intel Atom N450 for netbooks
Intel Atom N450 Pine Trail Wafer