December 21, 2009 at 12:46 pm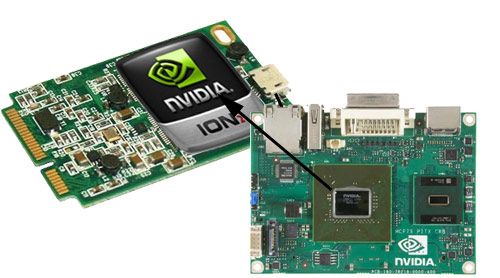 Despite the popularity of Nvidia's ION chipset, it cannot be used on Intel's new Pine Trail Atom platform. The move from a three-chip to two-chip processor platform means that Nvidia needs to revise its ION chip to be compatible with upcoming netbooks sporting Pineview CPUs.
Nvidia's next-generation ION part (ION 2) is expected to launch in Q1 2010, although it's still an unknown as to what form it will take. Intel's new Atom platform does not offer HD video acceleration or Adobe flash acceleration with its GMA 3150 GPU and judging by the reviews seen today, won't offer an improvement in performance over the current Atom platform.
The new Intel Pine Trail platform uses the DMI bus to connect to the Pineview processor and NM10 express chipset. However as Nvidia doesn't have a license to create chipsets around the DMI bus, ION 2 is likely to be a discrete graphics part. This may come in the form of a PCI-E solution that could use the PCI Express lanes of the Intel NM10 chipset to interface with the Pine Trail platform. This would be a possibility as the NM10 has an integrated PCI-E controller.
ION 2 is already rumoured to be compatible with other processor manufacturers including VIA, therefore this PCI-E solution seems to make sense. There would still be questions around heat though. Judging from the rumours seen so far, Nvidia seems confident in being able to compete. We really hope that is the case, if not for any other reason to push Intel in offering better HD compatibility in future Atom chips.
Via Blogeee.