December 24, 2009 at 11:51 pm
Netbook shipments are forecast to have grown by 103 percent year-on-year in 2009 according to a latest DisplaySearch report. Netbook revenues over the same period were up by 72 percent. This strong growth has meant that netbooks were 19.6 percent of total portable PC shipments and sales were 10.4 percent of the total. The low sales number is due to the lower average selling prices (ASPs) of netbooks.
Netbook average selling prices are estimated to have decreased by 15 percent in 2009 and DisplaySearch expect them to fall by a similar amount next year. Netbooks are expected to see strong growth once again in 2010, although there is expected to be a surge in ultra-thin 11.6-inch and 12.0-inch CULV-based devices.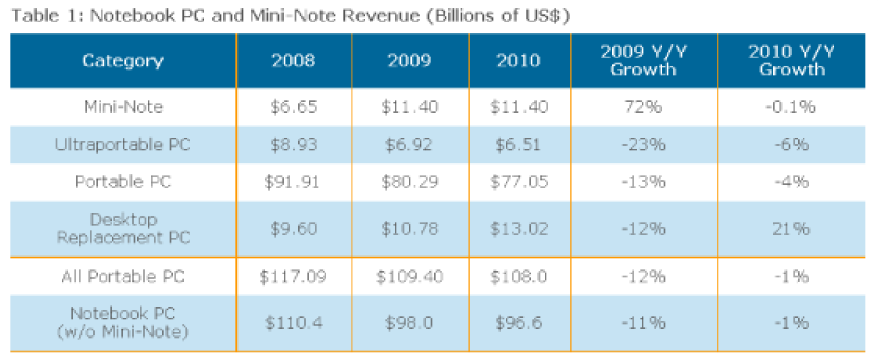 DisplaySearch expects that netbooks will remain around 20 percent of the overall portable PC pie until 2011, at which point it expects its market share to erode. The rationale given is that the "performance of larger notebook PCs continues to improve while prices continue to steadily decline, increasing the performance gap while narrowing the price gap." However, by that logic, surely the same will happen with netbooks i.e. prices getting cheaper and performance increasing?