January 3, 2010 at 2:47 pm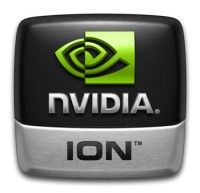 There are many question marks over exactly how Nvidia plans to offer its ION graphics solution to Intel Pine Trail netbooks. SemiAccurate is now reporting that ION 2 will not be a chipset, unlike the original ION, but will instead be a G218 GPU "with a few ports added on".
Two parts are due (GT218-ION-A3 and GT218-ILV-A3) that will be DX10.1 compatible. The G218 will not offer the advancements as rumoured before, and will only see 16 cores running at 535MHz and 1230MHz memory. The TDP of the new chip will be 12W and under 5W at idle.
The inclusion of the chip is likely to reverse the battery gains made by Intel on its new Pine Trail chips. However, I'm sure those looking for extra muscle would be willing to trade-off the worse battery life for better 3D performance. It will be connected over a 1x PCI-E 2.0 link according to the report.
Via Netbooked.