January 22, 2010 at 1:04 pm
Those looking to enjoy high-definition video content on their netbooks currently have two main choices. The first is to seek out an Nvidia ION-powered netbook and the second is to get one installed with Broadcom's Crystal HD media accelerator card for $30.
The guys over at Laptop Mag did some tests comparing a Dell Mini 10 netbook with Broadcom Crystal HD card against the HP Mini 311 armed with the Nvidia ION chipset.
Video and game content was compared between both devices and the frame rate was measured. The Broadcom-enabled Mini 10 had significantly better performance over its vanilla version, but both still lost out to ION when it came to HD video. As you would expect, this was also the case with games.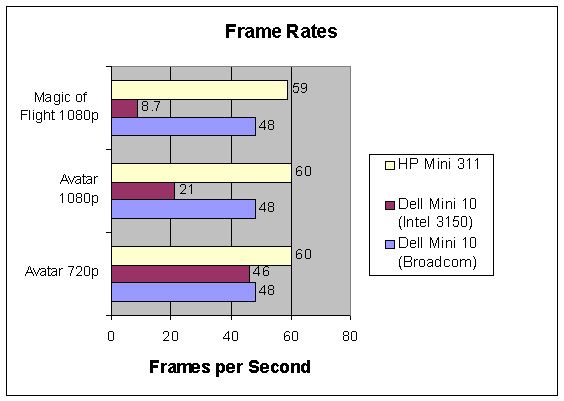 It is interesting that the maximum frame rate on the videos tested was 48fps, even at various resolutions. Could this be a mini PCI-E bandwidth limit? The bandwidth for gaming is even greater and highlights that Nvidia have got their work cut out in trying to make ION 2 a viable solution on Pine Trail netbooks.
Flash performance wasn't compared as Adobe Flash 10.1 does not currently support the Broadcom BCM70015 chip. This is strange as Broadcom confirms compatibility in its press release. Hopefully the third beta of Flash Player 10.1 should work with the BCM70015 chip, due in mid-February.