February 1, 2010 at 11:14 pm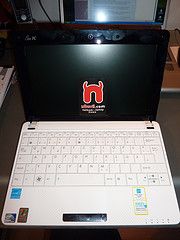 The Eee PC 1001P is the entry level Pine Trail netbook from Asus. It has typical specs that include a 1.66GHz N450 Atom processor, 1GB RAM, 160GB HDD and Windows XP. I like the fact that Asus has included 10.1-inch (1024 x 600) matte display with the unit.
nDevil has unboxed a German unit and it looks very similar to the 1005PE. We've attached that (English) video after the break, but there are a couple of additional videos (in German) that are also interesting. One compares it to the Samsung N220 and another times the 1001P's instant-on OS. Check them all out after the break.
Update: Check out another video below where the bottom panel of the Eee PC 1001P is removed to show its internals. However, if you're only looking to upgrade RAM, then this can easily be done by removing a solitary screw on an access panel.