February 10, 2010 at 5:45 pm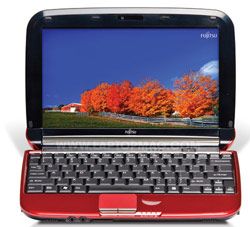 The Fujitsu LifeBook MH380 is quite unique amongst Intel Pine Trail netbooks. First of all it has a high resolution 10.1-inch (1366 x 768) display and secondly it also comes with a scroll pad next to its touchpad that is used to navigate lengthy web pages and the like.
Laptop Mag has its review of the device and whilst overall it only scored three stars out of five, there are some definite positives for the Fujitsu netbook. It is a much better effort than its predecessor, it has a bright HD display, comfortable keyboard, loud speakers and good battery life. The scroll pad also works surprisingly well.
There are some downsides and this includes a small touchpad, a heavy chassis, creaky hinge and slow boot times. The biggest negative though is one of price. At $449 it is significantly more expensive than the Toshiba NB305 at $399 and Asus Eee PC 1005PE-P for $379, both offering better value for money. Click here for the full review.