February 10, 2010 at 5:31 pm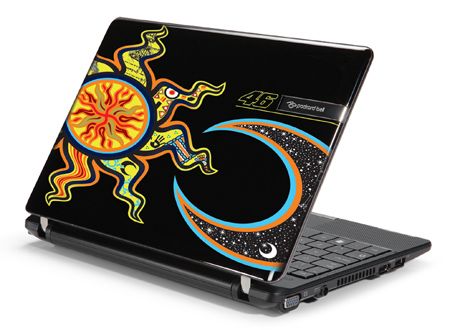 Packard Bell is set to launch the 11.6-inch dot VR46 netbook in homage to motorcycling living legend Valentino Rossi. The 'VR46' model number stands for Valentino Rossi's initials plus his racing number and is visible on the lid as well as inside on top of the display. We touched on the unique design back in mid-December, but now we have details on specifications as well as UK pricing.
The VR46 netbook will come with an 11.6-inch (1366 x 768) display and will be powered by either an Intel ULV Core 2 Duo or Celeron processor as well as Intel GMA 4500MHD graphics. Up to 4GB of DDR RAM will be supported and maximum storage of 640GB. All models will come with Windows 7 Home Premium.
The VR46 will come with two different batteries. The lower capacity 4400mAh battery lasts for up to six hours whilst the larger capacity 5600mAh battery is quoted at eight hours and lead to a total system weight of 1.35kg. Other features include Wi-Fi (b/g/n), Bluetooth 2.1, HDMI-out, three USB ports, 5-in-1 card reader, Ethernet and VGA. There's no firm UK release date, but prices will start at £449.