February 12, 2010 at 1:04 pm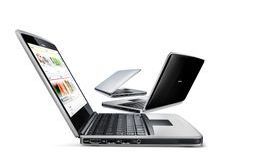 We thought we'd flag that the Nokia Booklet 3G netbook is now shipping through the Nokia store. We've already had a dig about the extortionate UK pricing (£649.00), which could buy you two netbooks from other manufacturers, but for those willing to part with their cash there's no doubt you'll be getting one of the prettiest netbooks on the market.
It has a 10.1-inch (1280 x 768) frameless display, encased in an aluminum chassis just 20mm in thickness. The Booklet 3G also boasts a 12 hour battery life, HDMI-out and embedded 3G. It is powered by the 1.6GHz Z530 Atom processor and comes with 1GB RAM (max), 120GB HDD and Windows 7 Starter.
No operator has moved to subsidise the device or bundle it through a deal. Personally, we would spend our money elsewhere and go for more power with one of the ION netbooks and pocket £250 instead.