March 14, 2010 at 4:58 pm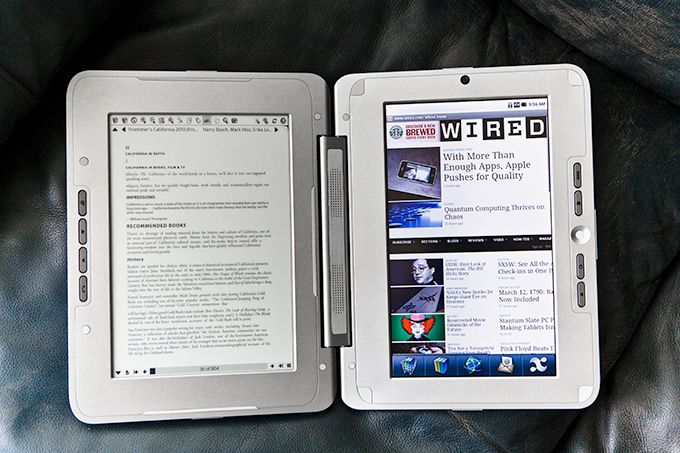 The Entourage Edge is an interesting device that maybe points to a new form-factor we'll start to see more of going forward. The $499 Edge combines two displays, one with a 9.7-inch e-ink screen and the other with a 10.1-inch (1024 x 600) colour LCD. It uses the Android operating system and comes with a SD card slot, SIM slot, two USB ports, Wi-Fi (b/g) and costs $499.
A number of sites have reviewed the Entourage Edge recently and the general consensus seems to be that it gets a lot of things right, but it is still let down by its awkward design, heavy chassis and sluggish processor. Check out snippets from some recent reviews after the cut.
Cnet: "The Entourage Edge successfully answers the call for an e-book reader designed for textbooks and academics, but casual readers will find the device awkward to handle and complicated to operate."
Engadget: "Yes, the Edge is a combination e-reader and a Android tablet — it just doesn't quite work well as either. For $499 there are just too many issues with it, including its chunky body, skimpy e-book selection, frustrating touchscreen, poor battery life and lack of Android apps."
Laptop Mag: "The Entourage Edge is an innovative product, and in practice the eReader/tablet combination works better than we expected. We like the flexibility and expandability of Android coupled with a large, touch-enabled eReader screen. However, it may be best to hold off until the initial spate of updates are complete and the app store is ready."
Wired: "Sluggish. Poor touchscreen performance. No 3G connectivity. Weak battery life. Smaller selection of online books in the bookstore compared to Amazon.com or Barnes & Noble.com."