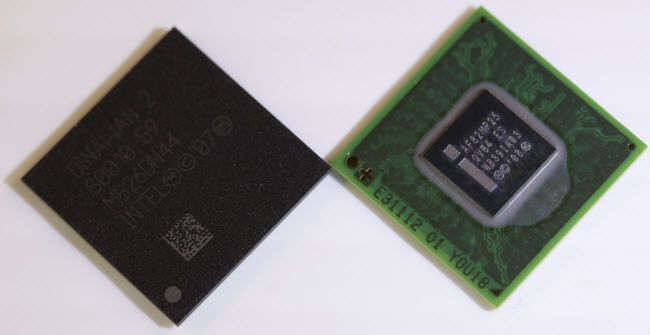 Intel has formally announced details on its Moorsetown platform in the form of Z6XX Atom mobile processors. The new 45nm chips have clock speeds ranging from 1.5GHz to 1.9GHz and will include Intel GMA600 3D graphics, display controllers and up to 2GB of memory onto a single SoC (system-on-chip).
These new chip use 50x less idle power, 20x less audio power, and 2-3x reductions in browsing and video playback power consumption compared to the older Z5XX Atom (Menlow) processors. In theory, this means smartphones, tablets and smartbooks running the new platform will be capable of 1080p video, desktop-style multi-tasking and long endurance times.
Battery life is expected to be around 4-5 hours browsing video content from a 1500mAh capacity battery. This doesn't sound as impressive as Nvidia Tegra 2's chipset that is believed to offer double that runtime.
The new processor will be compatible with a number of operating systems including Android and MeeGo as well as Adobe Flash, AIR and Microsoft Silverlight. Windows will not be supported but it is unclear whether Intel plans to add Windows support in the future.
Intel GMA600 graphics appears to be similar to GMA500 but with double the clock speed (400MHz from 200MHz on GMA500). It will also support hardware decoding of MPEG4 part 2, H.264, WMV and VC1 and encoding of MPEG4 part 2, H.264. This means gaming will be a possibility. An Aava phone was demonstrated running a 1.5-GHz Atom Z6xx series CPU and Intel's Moblin OS. The phone achieved playable framerates in Quake reaching 15 to 25 fps with detail on high and as high as 100 fps on low detail.
The Z6XX processor will come with the Intel Platform Controller Hub MP20 chipset (formerly known as Langwell) that adds smart power management, advanced audio processing, USB/USB-on-the-go controller and hardware-based data encryption. As with ARM solutions, there will also be options for 3G, WiMAX and GPS.
Click here for the PDF Fact Sheet.