February 22, 2010 at 8:07 am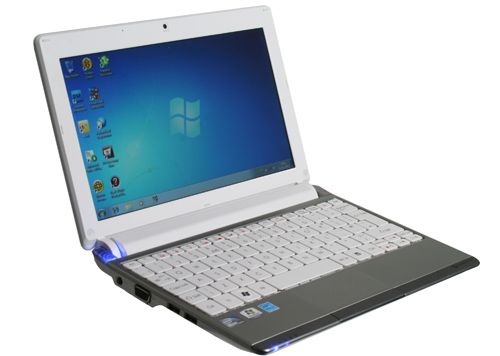 Packard Bell's dot S2 is their budget 10.1-inch Pine Trail netbook powered by a 1.66GHz N450 Atom, 1GB RAM, 250GB HDD and Windows 7 Starter. It also features a multi-gesture touchpad, Wi-Fi, webcam and Dolby Sound.
TrustedReviews took one for a spin and came away with some positive impressions, calling it "one of the better Pine Trail models so far." They really liked the chiclet keyboard and textured touchpad, whilst the glossy (1024 x 600) display and speakers were also of decent quality. Read more
February 21, 2010 at 9:01 pm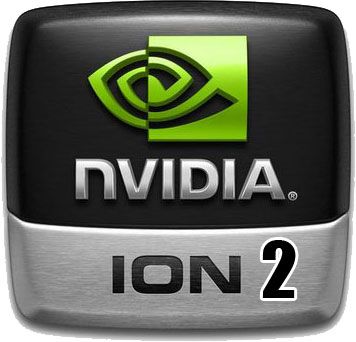 The Acer Aspire One 532G emerged as the first officially announced Nvidia ION 2 netbook earlier this week. This is despite still knowing very little about the "next generation ION" apart from the evidence suggesting it will be a discrete GPU part, possibly the GeForce GT218.
The 10-inch AAO 532G netbook was on show at MWC in Barcelona this week and NetbookNews managed to do some sneaky testing to see how 'next-gen' the new ION really is. They conducted the 3DMark03 graphics benchmark test on the netbook and initial results don't look too promising for those hoping ION 2 would be a leap in performance over the original. Read more
February 17, 2010 at 8:35 pm
Acer's much anticipated 11.6-inch Aspire 1820P convertible tablet is due to hit the market next month. It will be powered by a 1.2GHZ dualSU7300 Core 2 Duo processor, 2GB of RAM (max 8GB), either 250GB or 320GB HDD. Other features include Wi-Fi (b/g), Bluetooth 2.1, HDMI, three USB ports, card reader and a 0.3MP webcam. The company is also boasting an 8-hour battery life.
Notebook Italia managed to get some hands-on time with the Aspire 1820P whilst at MWC in Barcelona. In particular, they enjoyed playing around with Acer's multimedia TouchPortal user interface. You can use this to flick through photos, browse your music collection or play videos. It even allows you to print photos just by dragging them over to a print icon. Check out a video of this UI in action after the jump. Read more
February 17, 2010 at 3:18 pm
Those of you with Apple laptops will be familiar with the magnetic power adaptors (MagSafe) the company uses. The idea is that the power connector is held magnetically so that if it is tugged accidentally it comes out of the socket safely without damaging the device. Even under normal use, as the power connector is attached to the motherboard, constant strain can make the connection become loose.
One intrepid modder looked to create something similar for his Acer Aspire 1410 ultrathin. He claims that it is easy to build with common materials and holds together without detaching unless it's meant to. It all looks a bit complicated to me, but he says it is completely reversible. You can check out the guide here.
Via Blogeee.
February 15, 2010 at 12:00 pm
The Acer Aspire One 532G will be the first Pine Trail netbook to sport Nvidia ION 2 graphics along with Nvidia's Optimus power-saving technology. Details on the ION 2 implementation are still scant however we have been told it is a GeForce G218 part with dedicated 512MB memory.
The Aspire One 532G will be powered by a 1.66GHz N450 Atom processor, 2GB RAM, a 320GB HDD and a 10-inch high-resolution display. As you would expect it also comes with a HDMI out and optional 3G. Acer says that the netbook will have a 10-hour battery life, this falls to five hours if using ION 2 graphics constantly. Read more
February 10, 2010 at 5:31 pm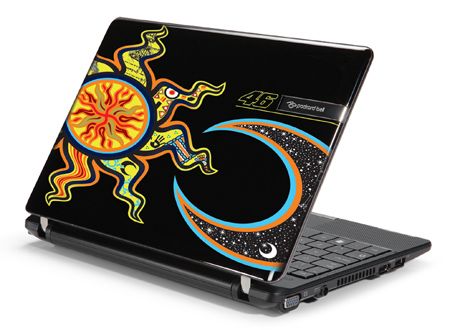 Packard Bell is set to launch the 11.6-inch dot VR46 netbook in homage to motorcycling living legend Valentino Rossi. The 'VR46' model number stands for Valentino Rossi's initials plus his racing number and is visible on the lid as well as inside on top of the display. We touched on the unique design back in mid-December, but now we have details on specifications as well as UK pricing.
The VR46 netbook will come with an 11.6-inch (1366 x 768) display and will be powered by either an Intel ULV Core 2 Duo or Celeron processor as well as Intel GMA 4500MHD graphics. Up to 4GB of DDR RAM will be supported and maximum storage of 640GB. All models will come with Windows 7 Home Premium. Read more
January 31, 2010 at 8:46 pm
We have covered Samsung's X120 CULV-based ultra-thin before, including a review roundup back in early November. However, what we never saw up until now was the obligatory unboxing. Well here it is, courtesy of Roland from NetbookNews.
It looks like a reasonably attractive device although I don't really understand why Samsung opted for mouse buttons either side of the touchpad rather than underneath it. Check out the video yourself after the jump.
Roland also unboxed the Acer Aspire 1810TZ and we've attached that video below too. Read more
January 29, 2010 at 8:17 pm
The Gateway EC14d is one of the few 11.6-inch ultrathins that actually manages to squeeze in a DVD burner into its chassis. It is powered by a 1.3GHz Intel SU4100 processor and Intel GS45 chipset. It supports up to 8GB RAM and comes with a 320GB HDD and an 8x DVD SuperMulti drive.
The 6-cell 5600mAh battery should deliver an eight-hour battery life. Other features include three USB ports, card reader and a multi-gesture touchpad. The Gateway EC14d is expected to launch in the coming weeks for $629.99. It's likely to be rebranded under the Packard Bell brand in Europe on release.
Via Notebook Italia.
January 26, 2010 at 8:05 am
The guys over at Laptop Mag have pitted six 10-inch Pine Trail netbooks against each other to find out a worthy winner. All models sport the 1.66GHz N450 Atom processor and various features were compared including design, performance and battery life.
The models tested were the Acer Aspire One 532h, ASUS Eee PC 1005PE-P, Dell Inspiron Mini 10, HP Mini 5102, MSI Wind U135 and Toshiba mini NB305. We won't spoil the overall winner, but three models stood out. The Toshiba has the best keyboard and touchpad, whilst the Asus offers the best battery life. The HP is a great all rounder and great for business use. Click here to read more.
January 25, 2010 at 8:02 am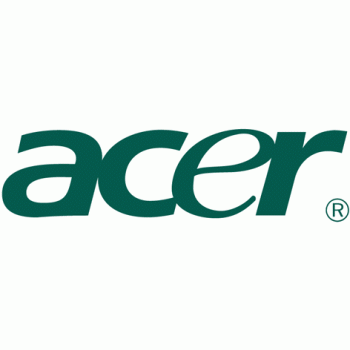 Acer will look to aggressively push Chrome OS in its netbook line-up, expecting around one million Chrome OS netbooks to be sold this year out of a total 12-15m forecast. The company wants to be first to the market with Chrome and is planning to launch its first netbook in the third quarter.
Acer is targeting Chrome OS netbooks to account for 10 percent of its line-up, to put this in context, its dual boot (Android/Windows) netbooks currently account for 5 percent. "For Chrome, we're aggressively pursuing to become one of the first, so there's a change to the Microsoft-Intel environment," Jim Wong, president of IT Products division said. Read more
January 18, 2010 at 10:19 pm
For those keeping an eye on the Acer Aspire 532h & HP Mini 210 Pine Trail netbooks, you may want to check out a couple of unboxing videos for a closer look. nDevil unboxed a HP Mini 210 with high-resolution (1366 x 768) display. You can see that the 6-cell battery sticking out quite a bit at the back, another video also shows the screw-less access to the bottom panel.
The Acer Aspire 532h was unboxed by NetbookNews.it. It's in Italian but gives you an idea of what's in the box. Check out both videos after the jump. Read more
January 13, 2010 at 8:53 pm
Acer's first Pine Trail netbook, the Aspire One 532h has seen its first review from Engadget. The 10.1-inch (1024 x 600) AO532h has pretty standard specs, for this new Pine Trail generation. You'll get a 1.66GHz N450 Atom processor, 1GB RAM, a 160GB HDD and Windows 7 Starter. You'll also get a 6-cell battery for a bargain-busting $299.
You don't get anything more than a plastic chassis for that kind of money, but thankfully it doesn't feel any cheaper than its rivals. It's also reasonably lightweight at 2.4lbs and just an inch thick, thinner than both the Asus Eee PC 1005PE and MSI Wind U135. The 532h comes with a chiclet keyboard, although it isn't the best implementation with small spacing between keys and shallow travel. The palm rest-integrated touchpad is a bit too "grippy" although it is multi-touch enabled. Read more
January 12, 2010 at 8:43 pm
The Gateway LT2102H is just one of the company's offerings in the 10-inch Pine Trail space. Lee from Minifrag managed to get hold of a unit and has posted his initial impressions of the device as well as some unboxing pictures.
This is his fourth Acer/Gateway device and the build quality is as good as the last. The chiclet keyboard is comfortable to use, despite a slight wiggle. The touchpad is large and the single rocker mouse button has a solid feel. Whilst, Lee hasn't done a full battery test yet, he says that the 3-cell 2200mAh battery should last 4 hours and 55 minutes according to Windows 7. Read more
January 7, 2010 at 6:36 pm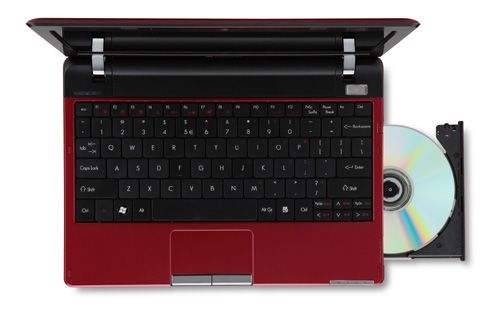 Gateway has announced the 11.6-inch EC14D CULV-powered ultra-thin, the first to feature a built-in 8x DVD drive. The $629 model seems reasonably well-specced for the price, armed with a 1.3GHz Pentium SU4100 processor, 4GB Ram and a 320GB HDD.
Other features include a HDMI port, Wi-Fi (b/g/n) and Windows 7 Home Premium. Check the full spec-list after the jump. The EC14D is due to land later this month. Read more
January 6, 2010 at 9:25 am
Gateway has introduced the LT21 series of Intel Pine Trail netbooks that promises a 10-hour battery life armed with a 1.66GHz N450 Atom Pineview processor and GMA 3150 graphics.
The LT21 series will come with a 10.1-inch (1024 x 600) LED backlit display, a 93-percent keyboard and multi-gesture touchpad (pinch to zoom in/out). The netbook has 1GB RAM on board and you can choose from 160GB/250GB HDD options. Read more