March 20, 2010 at 9:15 am
More information on the HP Slate is beginning to leak out. We are now hearing that the HP Slate will be priced at €400 ($540, £360) according to Spanish publication Clipset. The device is expected to be formally announced in June and will hit retail "before Septemer", at least in Europe.
Specifications will include an Atom processor, Windows 7, Adobe Flash support, card reader, webcam along with USB connectivity. Looks like the Apple iPad will have some competition on its hands.
Via Engadget.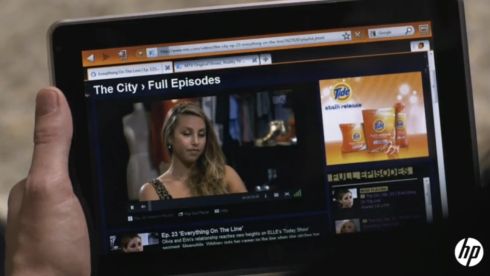 The HP Slate tablet is an enigma in many ways. Ever since Steve Ballmer showed it off at CES earlier this year, it's only appeared in a few videos with most of the hard information still under wraps. Anyway, whilst we wait, a couple of new videos give us more insight into its functionality.
The first, from Adobe, shows off the HP Slate's Flash and Air capabilities in Windows 7. Engadget highlights that the Slate is hardware accelerated, which could mean it comes with a Broadcom Crystal HD card or going further, it might even have an ION chip inside. HP has also posted another marketing video. You can check out both after the jump. Read more
HP has officially launched the Mini 210 Vivienne Tam Edition netbook that first made an appearance last September. The netbook is adorned with a butterfly design clearly appealing to the female consumer, along with a gold keyboard.
The specs are the same as the current vanilla Mini 210 netbook, including a 10-inch display, 2GB RAM, up to 320GB HDD, Windows 7 Home Premium and a 3-cell battery good for 5.5 hours of runtime. For those looking to make a fashion statement, the Mini 210 Vivienne Tam Edition will set you back $599 when it launches on March 19th.
Via Engadget.
February 27, 2010 at 9:43 am
The HP Mini 210 HD netbook costs $75 extra over the standard model coming in at $425. What you get for the premium is a high-resolution (1366 x 768) display with a Broadcom Crystal HD media accelerator card. This is a route a few manufacturers are taking and we saw yesterday that Dell has started to recently ship a similar bundle.
Engadget has posted a review of the HP Mini 210 HD and they felt that whilst Flash playback was supported through the latest Flash Player 10.1 Beta 3, performance was still inconsistent. They recommend instead going for an ION based machine that has no problems playing HD Flash or even waiting for the new Optimus-equipped ION netbooks. Read more
February 19, 2010 at 3:57 pm
Hewlett Packard has released little detail on its Slate tablet device. Apparently this is for good reason. According to the WSJ, HP was waiting to see what Apple had in store with the iPad, before tweaking features and price-points. Its sources suggest that HP executives will be meeting in the US and Taiwan over the next few weeks to discuss these exact issues.
It sounds like 3G will be one of the Slate's features as the company is considering selling a version of the Slate that has a similar display size and features as the iPad (including a 3G connection) for a price less than Apple is charging ($629). Read more
February 16, 2010 at 1:55 pm
HP is showing off its 10.1-inch Compaq Airlife 100 smartbook at the Mobile World Congress tradeshow in Barcelona. The Airlife 100 looks very much like a typical netbook, although it features a touchscreen resistive display and is powered by a 1GHz Snapdragon chipset and Android 1.6 combo.
The touchpad has a few shortcut buttons adjacent to it with key controls for the Android interface, such as the Menu, Home and Back keys. Other features include a 16GB SSD, Wi-Fi, 3G connectivity and a 12-hour battery life. The Airlife 100 smartbook will initially be offered by Telefonica through subsidized contracts. Read more
February 12, 2010 at 12:40 pm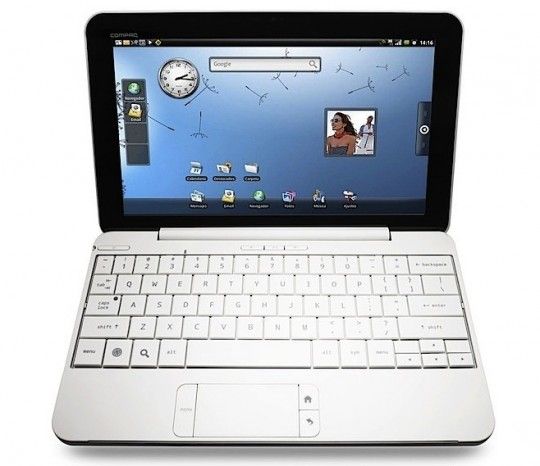 HP Spain has announced the Compaq Airlife 100 smartbook. It comes with a 10.1-inch display and integrated 3G pointing to the ARM chipset (possibly a Qualcomm Snapdragon?) Other features include a 16GB SSD, Wi-Fi, card reader, webcam and a 12-hour battery life.
The Airlife 100 looks like a very attractive slim line device, sporting a flat-key keyboard and some additional shortkey buttons sitting besides the touchpad. I didn't notice the mouse buttons, which could point to an integrated solution. It's also difficult to tell whether it comes with a matte or glossy display and at what resolution. Read more
January 29, 2010 at 7:57 pm
If CES wasn't an indication enough that 2010 is likely to be the year of the tablet (or slate if you prefer), then Gizmodo has a nice comparison table where it has compared six slates (including the recently announced Apple iPad).
Having a quick run through the list, the Notion Ink stands out for me. It's the only one to come with a Pixel Qi display for e-reading duties and sports Android, Tegra 2 and even a HDMI out. The only glaring omission is Adobe Flash support, but I'm sure Android will support this at some point down the line. Check out the detailed comparison table after the break. Read more
January 26, 2010 at 8:05 am
The guys over at Laptop Mag have pitted six 10-inch Pine Trail netbooks against each other to find out a worthy winner. All models sport the 1.66GHz N450 Atom processor and various features were compared including design, performance and battery life.
The models tested were the Acer Aspire One 532h, ASUS Eee PC 1005PE-P, Dell Inspiron Mini 10, HP Mini 5102, MSI Wind U135 and Toshiba mini NB305. We won't spoil the overall winner, but three models stood out. The Toshiba has the best keyboard and touchpad, whilst the Asus offers the best battery life. The HP is a great all rounder and great for business use. Click here to read more.
January 26, 2010 at 7:47 am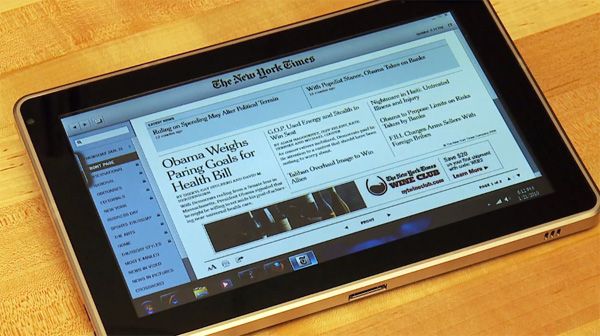 Perhaps reminding people that there are other tablets coming to the market apart from Apple's mythical device, HP has released a timely video where a few employees talk about its Slate tablet device. The device is demoed by HP Spokesperson Greta Schlender and Phil McKinney, CTO of HP's Personal Systems Group.
Apparently it was conceived two years ago but shelved as it wasn't ready for the market. Since then a "perfect storm" of hardware and software has made it viable again. It is expected to arrive at some point during 2010. Check out the video after the break. Read more
January 22, 2010 at 1:04 pm
Those looking to enjoy high-definition video content on their netbooks currently have two main choices. The first is to seek out an Nvidia ION-powered netbook and the second is to get one installed with Broadcom's Crystal HD media accelerator card for $30.
The guys over at Laptop Mag did some tests comparing a Dell Mini 10 netbook with Broadcom Crystal HD card against the HP Mini 311 armed with the Nvidia ION chipset. Read more
January 18, 2010 at 10:19 pm
For those keeping an eye on the Acer Aspire 532h & HP Mini 210 Pine Trail netbooks, you may want to check out a couple of unboxing videos for a closer look. nDevil unboxed a HP Mini 210 with high-resolution (1366 x 768) display. You can see that the 6-cell battery sticking out quite a bit at the back, another video also shows the screw-less access to the bottom panel.
The Acer Aspire 532h was unboxed by NetbookNews.it. It's in Italian but gives you an idea of what's in the box. Check out both videos after the jump. Read more
January 7, 2010 at 1:29 pm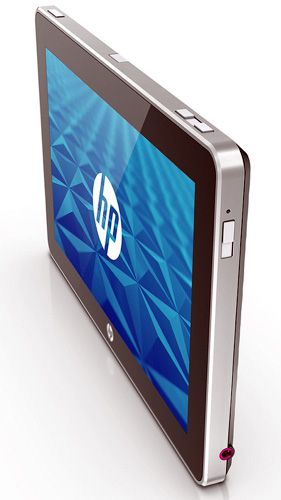 HP drew back the curtains on a Slate tablet device running Windows 7. The device was unveiled at the Microsoft CES keynote by Steve Ballmer but very little is actually known about, including the name.
The slate tablet has been confirmed by HP who said it will be "available later this year." Judging by the pictures it looks like it sports a 10-inch flush display surrounded by metal chassis. Check out a promo video of the mystery slate after the break. We've also attached a couple of larger shots of the slate courtesy of Gizmodo. Read more
January 7, 2010 at 12:39 pm
HP is showing off a new concept smartbook over at CES in Las Vegas. The smartbook is powered by a 1GHz Qualcomm Snapdragon (QSD8250) chipset and is loaded up with the Android operating system. It also has a 10-inch resistive touchscreen display
As with other smartbooks it has 3G and WiFi for always-on connectivity. In terms of exterior, this is no Lenovo Skylight, not a surprise given it's a prototype. The chassis used looks almost the same as the current HP Mini netbooks. There are no other details for now, but check out some hands-on videos after the break. Read more
January 6, 2010 at 7:36 pm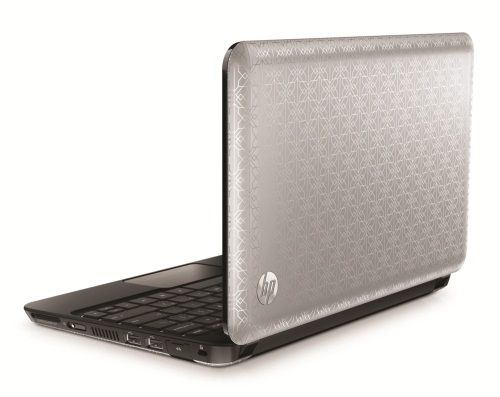 HP is on a roll, we've already reported on two of its ultraportables that launched today, the business oriented Mini 5102 netbook and TouchSmart tm2 tablet. Yet we still have more, HP has formally announced a few more 10.1-inch netbooks. This includes the HP Mini 210 which we've heard so much of recently, the Mini 2102 and the Compaq Mini 102.
Both HP Mini 210 and Mini 2102 appear to be the same in design and specifications. The latter will be targeted towards business users and therefore it comes in a brushed black metal finish instead of the plastic chassis of the 210. Read more