April 12, 2010 at 8:50 am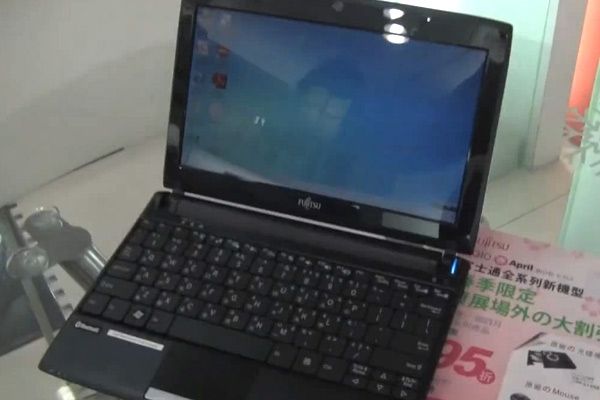 The Fujitsu LifeBook MH330 netbook was announced at the beginning of the month. It is the company's entry level netbook that sports basic specs (10"display, N450 Atom, 1GB RAM, 250GB HDD and Windows 7 Starter) but comes in a 1-inch thick chassis weighing 1.1kg.
NetbookNews managed some hands-on time with the netbook that has a nice matte finish on the lid. It only comes with a 3-cell 2200mAh battery which is a downer, but it does have a large access panel to change your HDD, RAM and Wi-Fi. Check out the video after the break. Read more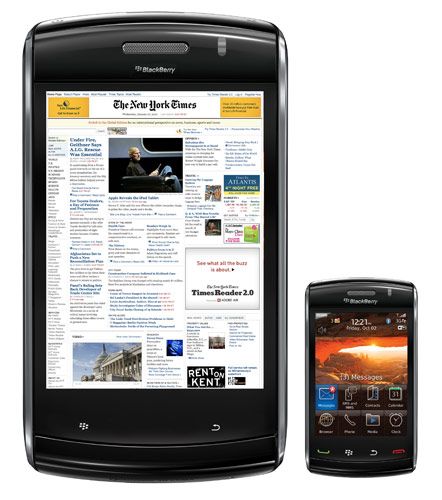 Everyone else is jumping on the tablet bandwagon, why not RIM? That is what an industry research firm is claiming after sources in the component supply chain have said that Research in Motion has placed an order for an 8.9-inch tablet from Hon Hai Precision (Foxconn) that will ship in late Q3 2010 or early Q4 2010.
The report doesn't reveal anything else, but I'd be a bit surprised if it were true. RIM aren't known for jumping into any old device category unless they felt it would enhance their portfolio. Also, RIM Co-CEO Mike Lazaridis recently told Walt Mossberg that, "I don't see the benefits of a tablet over a notebook… A lot of technology falls in the middle." Read more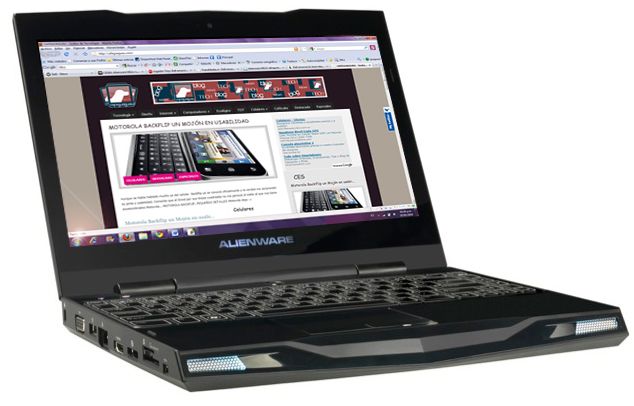 The Alienware M11x had an unfortunate launch timetable. Just as it was coming to the market we started to hear about Nvidia Optimus power-saving technology. Well it looks like Alienware won't be sitting back for too long, judging by some discussion over at the NotebookReview forums.
Member Darkhan, who is believed to have inside links with the company, has said that Nvidia Optimus and an Intel CPU refresh will hit the M11x in June/July. Good news if true, however I'd be a bit annoyed if I had just bought one, especially given the short timeframe before new models will appear.
Via Engadget.
HTC may be working on a device that looks similar to Microsoft's rumoured Courier. The dual-touchscreen clamshell device will open and close like a book, according to a report from Chinese site Zol. When the screens are fully opened, the UI merges to form one screen much like current tablet PCs.
When using a single screen, the other acts as a virtual QWERTY keyboard. Whilst this is clearly a concept, I'm sure it won't be too long before we see this kind of gadget make an appearance. We had already seen similar dual-screen devices at CES earlier in the year. However, it's Microsoft's Courier device that everyone really seems to be waiting for.
Via Gadgetmix.
April 7, 2010 at 10:46 am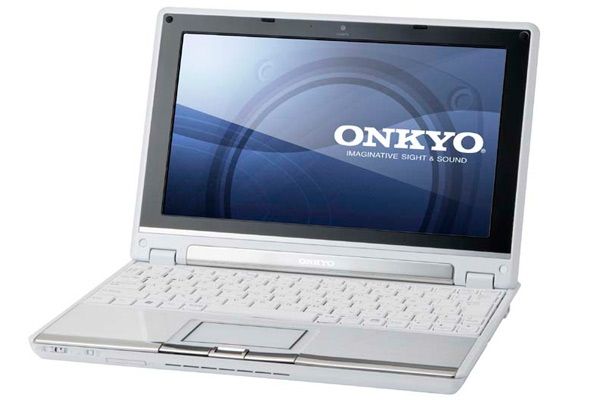 Onkyo has announced a new Sotec netbook today with the model name MX1007A4 (catchy!) The netbooks headline talking points are a 14.4 hour battery and a slim chassis that measures 22mm at its thickest point and weighs 1.16kg.
The 10.1-inch netbook comes with a 1024 x 600 display and is powered by a 1.2GHz Z515 Atom processor, 1GB RAM, 250GB HDD and Windows 7 Starter. Other features include Wi-Fi (b/g), Bluetooth, a 1.3MP webcam, card reader and two USB ports. Despite the basis specs it will cost a pricey 59,800 Yen ($636, €475, £418) when it's released in Japan on April 10.
Via Akihabara News.
Park this firmly in rumour territory for now, but another major manufacturer is looking to jump onto the tablet bandwagon. TheStreet.com is reporting that Ashok Kumar, analyst at Rodman Renshaw, has sources indicating that Nokia is working suppliers and design manufacturers on a touchscreen tablet.
"Right now the supply chain is being primed up for a fall release. It has to be on the shelf by September-October to meet demand for the holiday window," says Kumar.
The news wouldn't be a surprise given the publicity surrounding tablets at the moment. Unwired View suggests that a MeeGo tablet is unlikely this soon and Windows 7 is more probable if Nokia were to release a tablet this year.
April 6, 2010 at 12:50 pm
ICD has revealed their latest tablet dubbed Gemini that is one of the most fully featured yet seen. It will be armed with the 1GHz Nvidia Tegra 2 chipset, Android OS and comes with an 11.2-inch (1366 x 768) mutlitouch panel (both resistive and capacitive supported).
Two cameras are included in the package (2MP on the front and 5MP autofocus on the back). Additionally, it has a 5-axis accelerometer, GPS, FM radio, 4GB of Flash storage and a 32GB-supporting SD card slot.
Other features include HDMI, micro USB, 3.5mm headphone socket, integrated 3G, Wi-Fi (b/g/n) and Bluetooth 2.1. Pricing and availability remain a mystery for now. Check out some more pictures and a comparison chart after the cut. Read more
April 6, 2010 at 12:28 pm
The Viewsonic ViewBook VNB108 is the company's first 10-inch Pine Trail netbook. It's a typically specced netbook with a 1.66GHz N450 Atom processor, 1GB RAM, 250GB HDD and Windows 7 Starter. NetbookNews has managed to get hold of the VNB108 and shot an unboxing video.
You'll probably be glad to hear it has a matte (1024 x 600) display, along with a matte finish on the lid. The version unboxed only comes with a 3-cell battery and unfortunately you can't upgrade components without voiding the warranty. Check out the video after the jump. Read more
April 6, 2010 at 11:32 am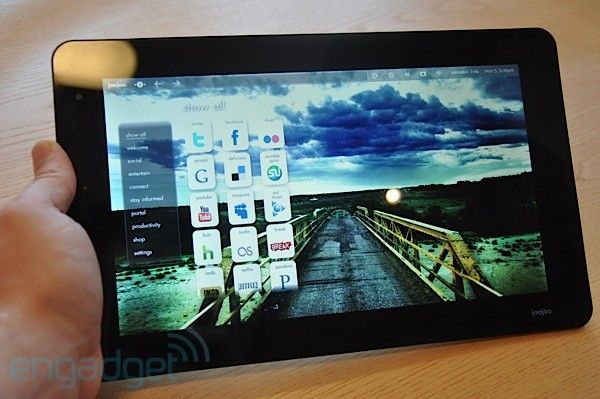 The JooJoo 12-inch capacitive tablet is finally shipping to customers and Engadget has the first review up. Overall they found it difficult to recommend the $499 tablet, especially considering the coinciding launch of the Apple iPad. They felt the JooJoo ships with "half-baked software" that makes it unintuitive to use.
On the positive side, they did like the hardware design, but says the JooJoo has a worse screen than the iPad and is also less portable. They suggest the price-point needs to be re-evaluated as well it needing software updates aplenty. On this front, Fusion Garage is apparently promising a "near-weekly update schedule" that will hopefully bring with it hardware-accelerated Flash support. You can read the full review here.
April 2, 2010 at 10:21 am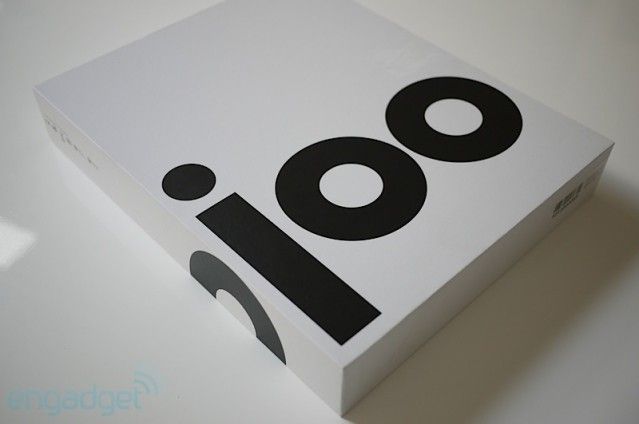 It looks like the 12.1-inch capacitive JooJoo tablet is a reality after all. The first units are shipping to customers and Engadget managed to get hold of a retail model to unbox.
You can check out some of the unboxing pictures after the break, but they also have a video that walks through the UI. Engadget is promising a review next week, but until then you can check out the video below. Read more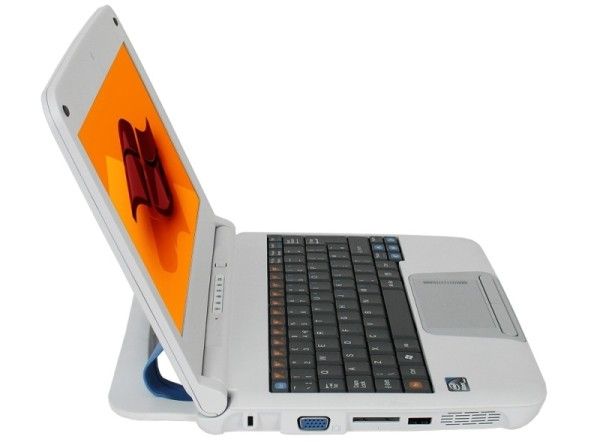 PeeWee has been making software and hardware targeted at kids for a while now. Following on from their Pivot Tablet laptop that came with a touchscreen, the company has announced the Power Laptop that follows the basic netbook form-factor aimed at kids.
It has a 10.1-inch (1024 x 600) display and is powered by a 1.66GHz N450 Atom processor, Intel GMA3150 graphics, Windows XP and a 160GB HDD. Other features include a 1.3MP webcam, 6-cell battery along with PeeWee security software. Read more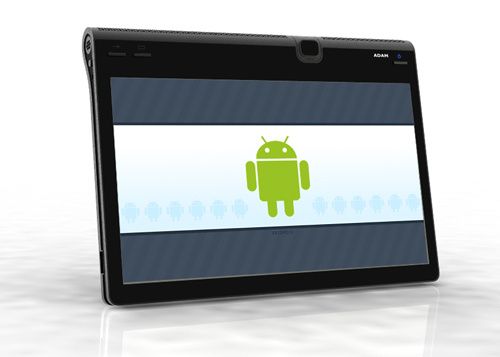 The Nvidia Tegra 2 chipset that was heavily shown off at the Consumer Electronics Show in January, mostly in numerous tablet devices, is suffering "some serious issues" relating to stability according to Slashgear. This is causing a delay in the production pipeline for many companies looking to incorporate the chip into their products.
Devices that were expected to hit the market in June 2010 have now been delayed to August at the earliest. This includes projects such as the much anticipated Notion Ink (delayed to Q4 2010) and Compal (delayed to mid-September) tablets. This can only be good news for the Apple iPad that will have the market to itself for even longer.
Fujitsu is set to launch a budget 10.1-inch Pine Trail with typical specs but with a lightweight chassis weighing 1.1kg measuring an inch (24.5mm) in thickness. The MH330 has a 10.1-inch (1024 x 600) display powered by a 1.66GHz N450 Atom processor, 250GB HDD and comes with the latest wireless standards including Wi-Fi (b/g/n) and Bluetooth 2.1.
Other features include a spill resistant keyboard, 5-in-1 card slot and a webcam. Battery life probably won't be great given the inclusion of a three-cell battery. The netbook will cost S$699 (US$499.68) when it hits Asia in April.
Via Crave Asia.
March 31, 2010 at 4:32 pm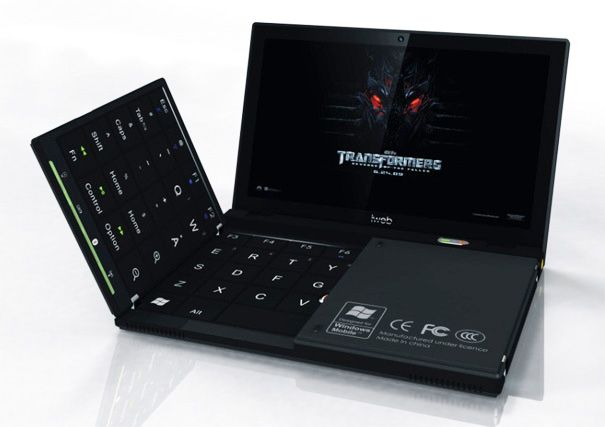 We've covered a number of concept netbook designs in the past and here's another. This one is designed by Yang Yongchang. The iweb 2.0 is a small device with tiny screen that features a full-width keyboard that folds out either side.
It also borrows the trackpoint normally found on Thinkpad laptops along with a pencil-thin touchpad. The iweb concept features a 6.5-inch capacitive multi-touch display. It could be a while before we see anything like this in production, but in the mean time you can gaze over some concept pictures after the jump. Read more
March 30, 2010 at 3:57 pm
Sharp is prepping the IS01 Android smartbook in Japan that will be offered by Japan's number mobile carrier called KDDI. The 5-inch clamshell device will be powered by a 1GHz Snapdragon processor, Android 1.6 and seems more akin to a smartphone rather than a smartbook in the traditional sense.
The 5-inch capacitive display has a 960 x 480 resolution and comes with a QWERTY keyboard, 5MP camera, Wi-Fi (b/g), Bluetooth 2.1 and 4GB of storage. The Sharp IS01 will ship in Japan at the beginning of June and so far it's not known if it will appear in other regions. Click through for the specs. Read more