January 9, 2010 at 9:13 pm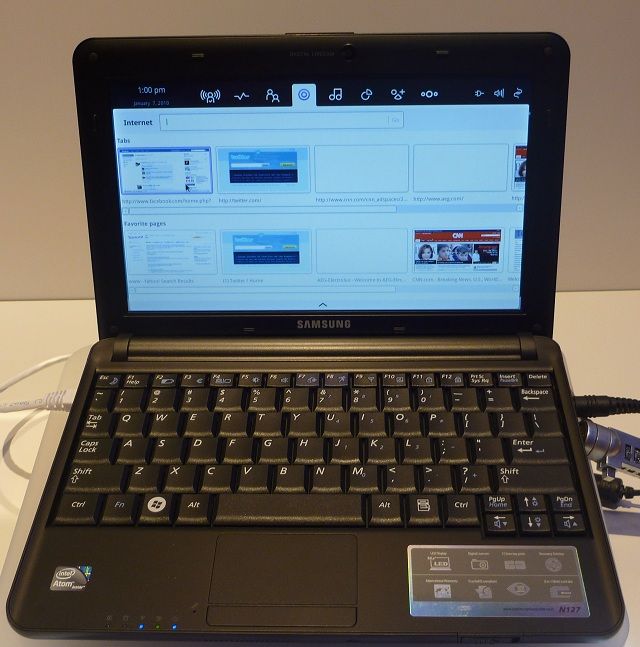 Samsung is prepping a 10.1-inch netbook with the Moblin operating system during Q1 2010. The Samsung N127 will first launch in India and Russia at an unknown price point. If the launch goes well, either this model or another Samsung Moblin netbook will launch in Q2 2010.
The Samsung N127 is powered by an Intel Atom Z-series processor, more than enough grunt to run Moblin adequately. Ars Technica got some hands-on time with the Samsung N127 and found that Moblin ran very snappily. As Moblin has been designed for small screens, the large icons and bright colours help with the user experience. Read more
January 9, 2010 at 6:00 pm
Samsung released four new Intel Pine Trail netbooks at CES and it's the NB30 that has been designed to take a knock or two. Apart from its 11-hour battery life, it comes with a water-tight seal to prevent liquid damage and it also has a HDD freefall protection sensor.
It's not only the internals that are designed with durability in mind, the NB30 also has a rubberised lid and deck. Apart from this, you'll get a 1.66GHz N450 Atom, 1GB RAM and 160GB HDD powering the 10.1-inch (1024 x 600) matte display. Check out some video impressions from Laptop Mag after the break. Read more
January 4, 2010 at 8:34 am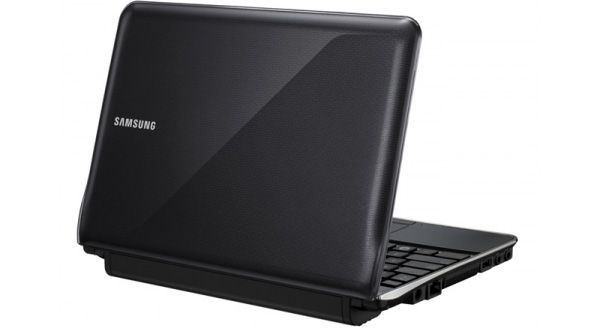 Samsung has officially confirmed its Intel Pine Trail netbook line-up. It will launch four new netbooks under the model names N210, N220, N150 and NB30. Whilst detailed specifications and pricing is still not available, Samsung says that all four models will be available across all territories in early January.
The netbooks will feature a 10.1-inch LED anti-reflective display powered by a 1.66GHz N450 Pineview Atom processor. The designs of the new netbooks don't look radically different from what we're accustomed to. They all sport a scratch-resistant lid and webcam. Read more
December 31, 2009 at 10:50 am
The Samsung N510's arrival is important for a number of reasons. It is one of the first netbooks to be released armed with the Nvidia ION LE chipset. It is also the company's first 11.6-inch device. On paper it sounds like a winning combination, you get a 1.66GHz processor, high-resolution matte display, HDMI, Wi-Fi (including Draft-N), Bluetooth 2.1 and a 6-cell 5900mAh battery.
However, times move quickly and with the advent of Windows 7, some may not want to purchase a new netbook that only comes with XP. It's also not cheap at around the £380 mark, pitting it a significant premium to the main other ION netbook on the market right now, the Compaq Mini 311c at £330. Read on to find out whether ION really makes a difference and whether the Samsung N510 is worth the premium. As usual, you'll also find some comprehensive performance and battery tests. Read more
December 29, 2009 at 4:21 pm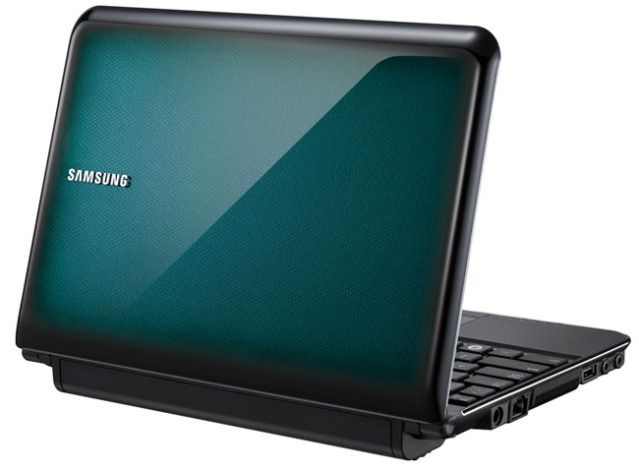 Samsung is already expected to announce two new Intel Pine Trail-powered netbooks (Samsung N150 & Samsung NB30) during CES next week and now we can add another to the list. The Samsung N220 has popped up in a few retailers including Rue de Commerce in France. The €349 priced netbook looks similar to the Samsung N140, albeit with a 1.66GHz N450 Pineview processor.
The Samsung N220 is also listed by UK retailer OYYY for £338.11 and the specs seem typical. You'll get a 10.1-inch (1024 x 600) display, 1GB RAM, a 250GB HDD and Windows 7 Starter. However, the interesting part is a claimed 11.5 hours of battery life with its 6-cell 5900mAh battery. During video playback you should be able to get 7.5 hours of battery life. Read more
December 25, 2009 at 12:10 am
Laptop Mag has pitted the four current ION netbooks on the market against each other. This includes the dual-core Asus Eee PC 1201N, HP Mini 311, Lenovo S12 ION and Samsung N510. They compared each of the four across a number of categories including battery life, value for money, design as well as video and gaming performance.
It's probably not surprising to hear that the Asus Eee PC 1201N won most of the performance tests, whilst the HP Mini 311 won best design and value for money. The Samsung N510 came out on top in terms of battery life. Choosing a winner seems a bit subjective as people will value different features more strongly than others. Click through to find out who the overall winner was.
Update: Engadget also has a good write-up of the above four ION netbooks head-to-head.
December 22, 2009 at 12:01 am
In all my time writing for Netbook Choice I have never experienced the amount of new netbook announcements in one day as I've seen today. Hopefully, this is the last (for today at least!) What we have here is the Samsung NB30 netbook that was spotted at retailer Neobits.
From what I can tell this 1.66GHz N450 Pineview Atom netbook seems almost identical to the 10.1-inch Samsung N150 that we posted on earlier. The spec-list, dimensions and weight appear to be identical bar the 6.5 hour battery life (the N150 has a quoted 7 hour life). Either the specs are wrong for one of them or one of these models may be aesthetically different (much like the Samsung N310). There are no details on availability but I suspect we'll see this appear in early January. Click through for the specs. Read more
December 21, 2009 at 11:14 pm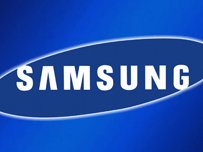 Samsung is also looking to join the Intel Pine Trail party by launching the NP-N150 netbook. The Samsung N150 has been spotted passing through the FCC, there are no pictures at the moment although we do know the full specifications courtesy of a retailer listing.
The N150 sports a 10.1-inch (1024 x 600) display and will be powered by the 1.66GHz N450 Atom Pineview processor and Intel GMA 3150 graphics. It will come with 1GB RAM, a 5400RPM 160GB HDD and Windows 7 Starter. Read more
December 8, 2009 at 6:50 pm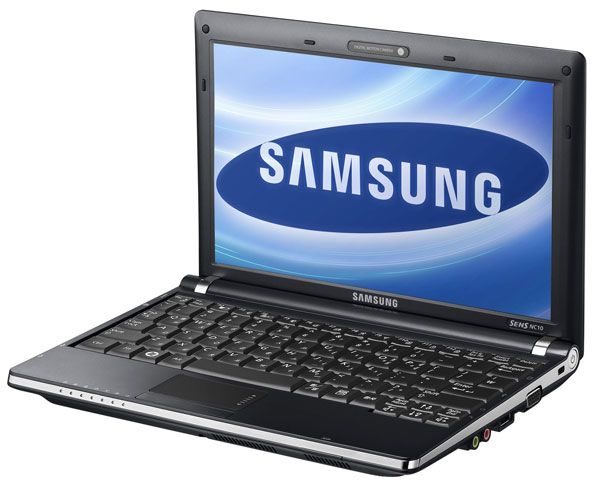 The Netbook World Summit was being held today in Paris and some interesting tidbits of information have been gleaned from Samsung Notebook Product Manager, Jaewoo Seo. He says that a completely new range of Samsung netbooks will be revealed in January 2010 based on the Intel Pine Trail platform.
This is hardly surprising news as we already know that most of the big manufacturers are planning on showcasing their Pineview-powered netbooks at CES 2010 in early January. However, we did learn that these models are expected to incorporate a much thinner design whilst having even longer battery lives. Samsung already delivers some of the longest netbook battery lives so this is great news. Also, at least one netbook with a touchscreen display is expected. Read more
December 4, 2009 at 8:21 am
Laptop Mag has followed yesterday's Samsung N140 netbook review with a look at its budget brother, the Samsung N130. The Samsung N130 has an official price point of $349, but can be found cheaper and offers the same keyboard, touchpad and matte display as the N140.
However, that's where the positive comparisons end. The N130 comes with the weaker 1.6GHz N270 Atom CPU and 4000 mAh 6-cell battery. The N140 came with a 1.66GHz N28 Atom and 5200mAh capacity battery. It is also only equipped with a mono speaker to further differentiate it from the N140 that comes with stereo SRS audio.
The Samsung N130 lasted for four hours and forty-four minutes, this is nearly two hours less than the N140, a significant difference. Laptop Mag suggests spending a bit extra and going for something with a bit more oomph. You can read their full review here.
December 3, 2009 at 12:24 pm
The 10-inch Samsung N140 netbook is the latest incarnation of the best-selling NC10 model. Laptop Mag has published its review of the N140 and it seems to have done the NC10 proud in most respects. However, it is let down by battery life, at least when compared to the competition.
The Samsung N140 lasted for six hours and thirty-two minutes on its 6-cell 5200mAh battery, higher than the average of 5h:21m. Whilst this is certainly respectable, competing models are now starting to deliver significantly higher battery lives. Even the company's older N110 netbook offered an extra hour of battery life, although it is using a higher capacity 5900mAh battery.
Other (minor) negative points include a glossy lid that is a fingerprint magnet, the touchpad buttons are narrow in use and SD cards stick out from the slot. Apart from that however, the Samsung N140 wins points for its class-leading keyboard, bright matte display, large touchpad, SRS audio, Windows 7, fast CPU and value price point at $399. Click here to check out the full review.
November 22, 2009 at 10:39 pm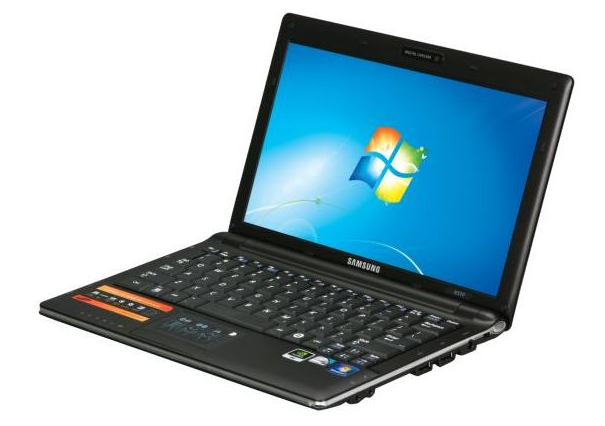 The 11.6-inch Samsung N510 netbook has finally started to ship in the United States. Newegg.com
has it listed for $599.99 and offers free shipping. Looking around, it seems to be the first major retailer to stock the Nvidia ION-powered netbook. The Samsung N510-4B (NP-N510-JA02US) only comes in black.
The US model has some material improvements over the European SKU, including Windows 7 Home Premium, 2GB RAM and a 250GB HDD. This compares to the European version that comes with XP, 1GB RAM and a 160GB HDD. I'm sure the Windows 7 N510 will hit Europe at some point, although I haven't seen it listed thus far. Read more
November 22, 2009 at 2:32 pm
The Asus Eee PC 1005HR netbook is pretty much identical to the 1005HA Seashell apart from one key fact, it has a high-resolution 1366 x 768 pixel 10.1-inch display. This compares to the 1024 x 600 resolution found on the 1005HA display. It's only available in Japan right now and Peter from Netbooked has shot an unboxing video.
He also unboxed the Samsung N140 netbook and liked the keyboard, matte display and lightweight chassis. The N140 is similar to the N130, but has a higher capacity battery and stereo speakers. You can check out both videos after the jump. Read more
November 11, 2009 at 11:22 am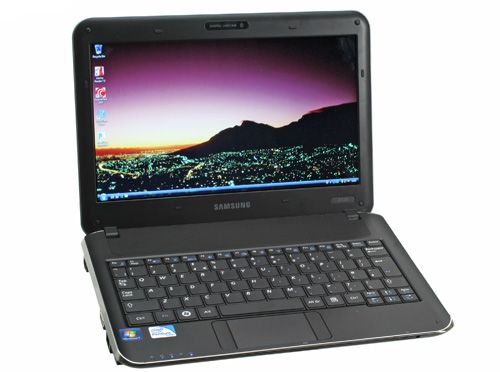 The 11.6-inch Samsung X120 CULV ultra-thin has now seen its first reviews. Despite a short 2.5-hour battery life, Cnet UK claimed it was their favourite 11.6" ultra-thin released so far. The liked its portability, nice screen and comfortable keyboard.
TrustedReviews also reviewed the Samsung X120 and found that it was let down by poor battery life, this is despite being well-designed and having good performance. The mouse buttons are placed on either side of the touchpad that is another minor annoyance. Read more
October 28, 2009 at 5:20 pm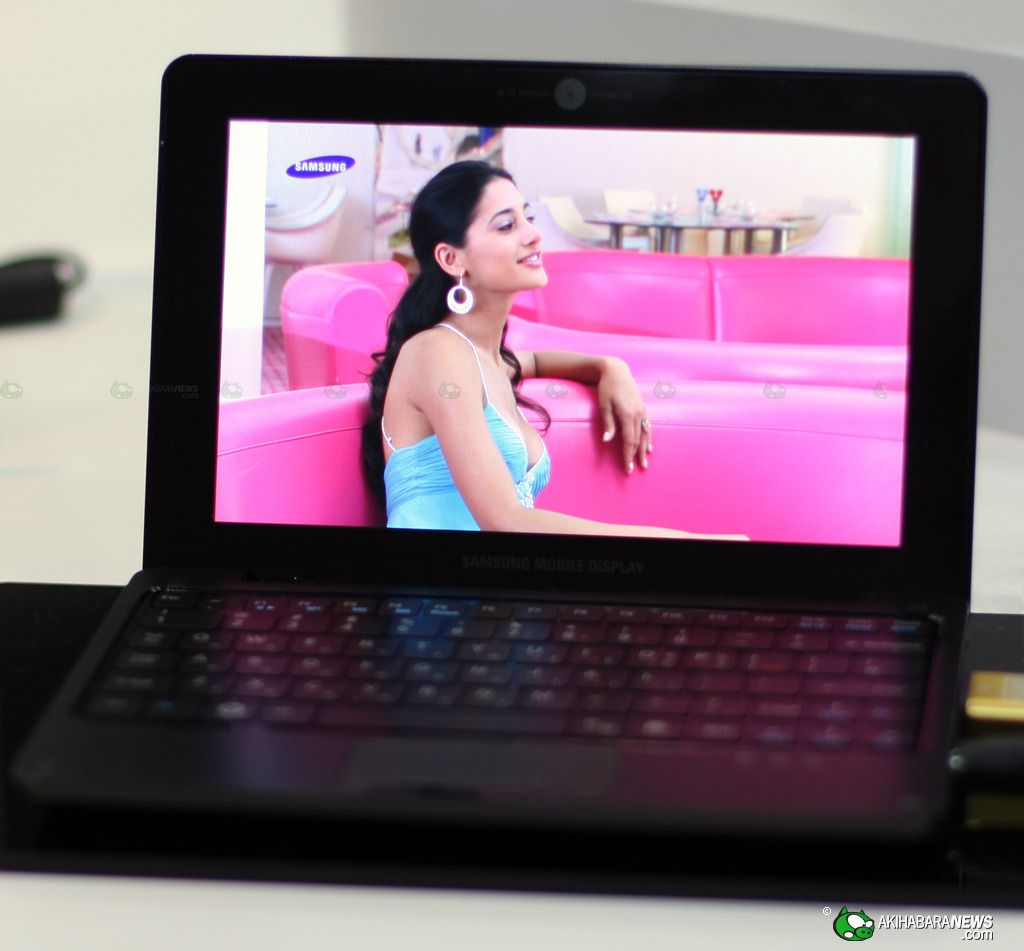 Samsung has shown off a 7-inch netbook running a 1024 x 600 resolution OLED display at FPD 2009 (Flat Panel Display 2009). The model has a brightness of 300cd/m2 and a 1000000:1 contrast ratio.
Personally, I can't say I'm looking forward to OLED-equipped netbooks in the near future. Firstly, I imagine pricing would be prohibitive as you scale up to larger display sizes and secondly, OLED displays are very poor in direct sunlight.
Yes, their vibrancy and contrast can't be matched when used indoors, but netbooks are hardly meant to be tethered indoors (are they?) You can see the prototype in action in the video after the break. The netbook appears between 37 and 52 seconds.
Update: Netbooked also has a video of these new devices, check it out after the break. Read more