March 5, 2010 at 11:00 am
Jolicloud has announced that its final 'Robby' build will be released to the public by the end of the month. It has also announced that it will be automatically switching its web application platform to Google Chrome from Mozilla Prism that it has been using currently.
The move is said to bring a faster browsing experience, more efficient use of memory, better performance on ARM smartbooks/tablets, HTML5 as well as Chrome extensions support. Despite the switch, Firefox will still be the default browser used. It claims that Firefox on Jolicloud is 10 percent faster than on other Linux distributions due to optimisations carried out. Read more
February 17, 2010 at 3:04 pm
Back at CES in January, both MSI and Samsung announced that it was planning to release netbooks with the Moblin operating system installed. MSI were planning a Moblin Wind U135, whilst Samsung was prepping the N127 netbook that will primarily go on sale in India and Russia.
Now the MSI Wind U160 has been spotted running Moblin at MWC in Barcelona. The hardware remains the same: 10.1-inch (1024 x 600) display, N450 Atom processor, 1GB RAM, 250GB HDD and a 15 hour battery life. We don't know whether this was just a demonstration or whether MSI plans on making this a commercial reality. However, you can check out a video of the Moblin Wind U160 after the break. Read more
February 17, 2010 at 12:47 pm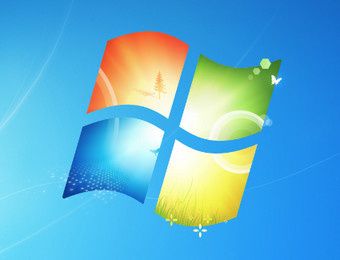 There are so many operating system choices when you've bought your new netbook. You have the usual desktop stalwarts such as Windows, OS X and Ubuntu, but there is a growing number of Linux alternatives catered to the netbook experience such as Jolicloud, Moblin and the upcoming Chrome OS.
Lifehacker has been conducting a poll over the last week, asking its readers what is the best netbook operating system. First of all they asked their readers to flag their favourite, they then rounded up the five most popular OSes and conducted a poll to find a winner. Read more
February 15, 2010 at 12:37 pm

Intel and Nokia have merged their respective Moblin and Maemo mobile Linux operating systems to form MeeGo. This is huge news. MeeGo will be backed by two of the largest technology companies in the world and should create a mobile OS that will suit a wide range of devices from netbooks to smartphones.
Nokia recently delivered its first Maemo device the Nokia N900 smartphone and Intel's Moblin is a credible open-source software platform for netbooks as well as MIDs. The MeeGo project will be hosted by the Linux Foundation. There will be access to both the Nokia Ovi Store and the recently announced Intel AppUp Centre. Read more
February 11, 2010 at 10:25 pm
The latest Jolicloud kernel is now supporting the latest netbooks based on the Intel Pine Trail platform. To perform the update you need to go to My Jolicloud and click the 'Update All' button. Having a look through the list, there doesn't seem to be any major Pine trail netbook that has been excluded. Check out the list for yourself after the break. Read more
February 11, 2010 at 5:22 pm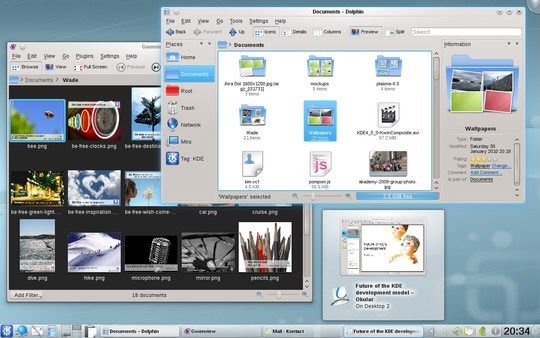 KDE has released its latest software compilation (4.4) dubbed 'Caikaku'. The release includes a range of different built-in social networking features, but more relevant to netbook owners is the inclusion of a Plasma netbook interface specially designed for "ergonomic use on netbooks and smaller notebooks." Check out a video of it in action after the break. Read more
February 1, 2010 at 10:39 pm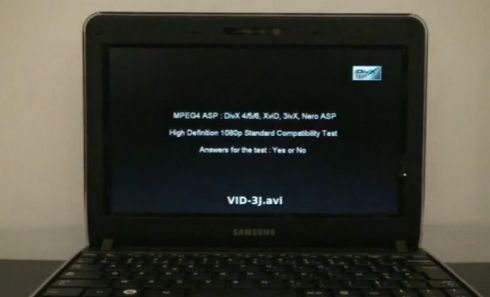 Jolicloud has already demonstrated 1080p HD video on netbooks running on Intel's Diamondville processors (N270 & N280), but now it has also announced 1080p support of Intel's new Pine Trail processors (N450 Atom). No external decoder (like the Broadcom Crystal HD) is needed and most codecs should work. Liliputing says that only 1080p H.264 content will not work.
This new update is expected to go live in the next couple of weeks and will also bring with it support for Nvidia ION, Intel GMA 500 graphics as well as the VIA C7-M. Until then, check out a demo of 1080p video content playing through Jolicloud on a Samsung N210 netbook. Read more
January 9, 2010 at 9:13 pm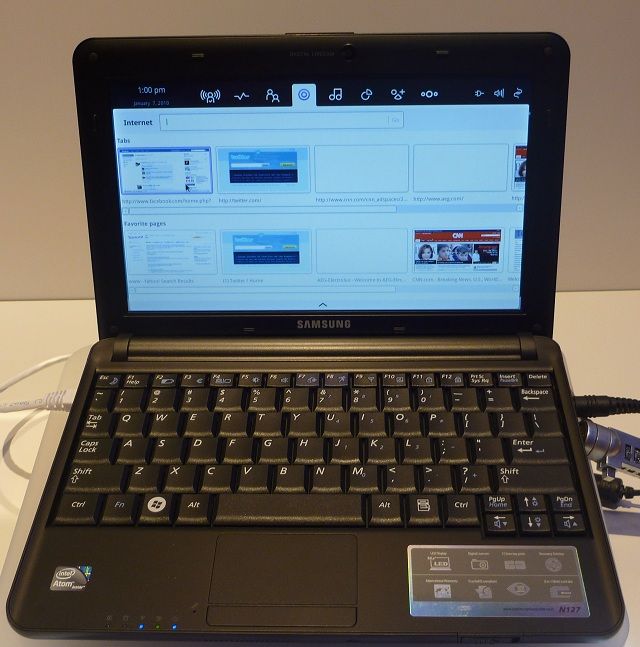 Samsung is prepping a 10.1-inch netbook with the Moblin operating system during Q1 2010. The Samsung N127 will first launch in India and Russia at an unknown price point. If the launch goes well, either this model or another Samsung Moblin netbook will launch in Q2 2010.
The Samsung N127 is powered by an Intel Atom Z-series processor, more than enough grunt to run Moblin adequately. Ars Technica got some hands-on time with the Samsung N127 and found that Moblin ran very snappily. As Moblin has been designed for small screens, the large icons and bright colours help with the user experience. Read more
January 9, 2010 at 9:13 pm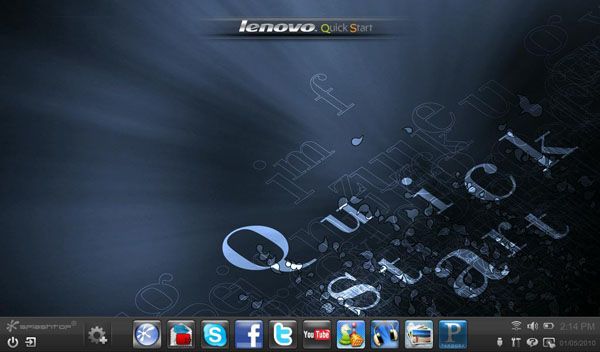 Splashtop has announced that version 2.0 is now official. The new features includes even faster performance, touch optimisation, better 3G connectivity, a redesigned application dock as well the ability to customise the desktop.
Other features include instant search that allows you to search even before opening the browser and a visual navigation of browsing history. The first netbook to feature Splashtop will be the Lenovo Ideapad S10-3t convertible netbook.
Via EeePC.net.
January 5, 2010 at 10:08 pm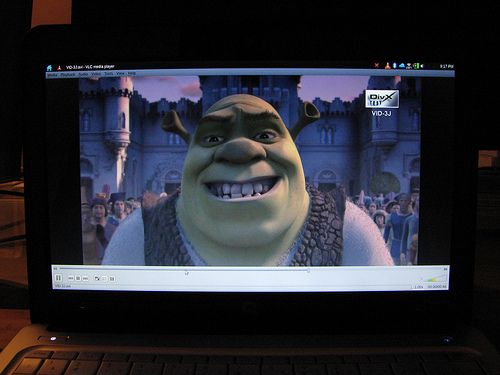 Jolicloud will be getting Nvidia ION netbook support in the very near future. This means the ability to play back 1080p high definition video content out of the box, certainly a very nice addition. There's no word on exactly when it will be released but it can't be too long now. Check out a video demonstration of this in action after the break. Read more
December 30, 2009 at 10:25 am
XBMC (formally called Xbox Media Centre) was originally developed for the Xbox but has since moved over to the Desktop. It is an open source media player with support for Windows, Linux and Mac. Whilst it works well on the PC, it's even better used in a HTPC. It's so good in fact that I still have two original Xboxes with XBMC connected to two TV's in our household.
As an XBMC user for many years, I was very excited to hear that the development team has announced support for the Broadcom Crystal HD video accelerator across all three major platforms (Windows, Linux and OSX). This means hardware decoding of MPEG-2, H.264 and VC1 1080p video content will be coming to those netbooks with the Broadcom Crystal HD mini PCI-E (BCM970012) installed. Read more
December 10, 2009 at 9:18 pm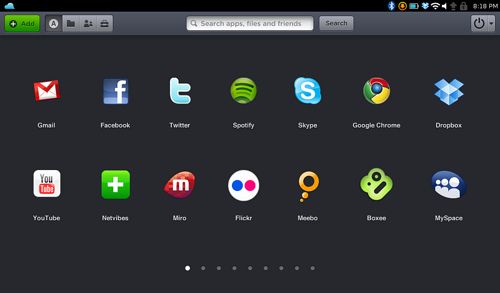 The Pre-Beta of Jolicloud is now available to download for all, no need to request an invitation. This comes with Jolicloud Express that enables you to install the OS within Windows, without deleting your current Windows install. This means you can always switch back to Windows whenever you want.
The new Jolicloud HTML5 launcher is also part of the release and a screenie is attached after the break. As part of this release, it appears that the Jolicloud website has been revamped and it certainly looks much more professional now. You can download the 600MB exe file from here. Read more
December 9, 2009 at 9:51 am
Sugar Labs has released v2 of its 'Sugar on a Stick' OS which it has codenamed Blueberry. This follows the v1 Strawberry release back in June. Improvements for the new version include being able to browse & download the web more comfortably as well as the ability to read e-books.
Sugar on a Stick Blueberry includes the latest 0.86.3 Sugar release and features redesigned toolbars, improved wireless performance, support for tabbed browsing and EPUB file support for e-books. Any 1GB USB drive can be used and the OS is run from that drive, rather than requiring installation. The Blueberry release can be downloaded here.
The Sugar operating system was originally developed for the One Laptop Per Child (OLPC) project and was first found on the XO-1 netbook. The operating system was created to engage young children with a simple user interface and to help develop their IT skills. Check out a video demonstration of it in action courtesy of NewGadgets.de. Read more
November 30, 2009 at 6:56 pm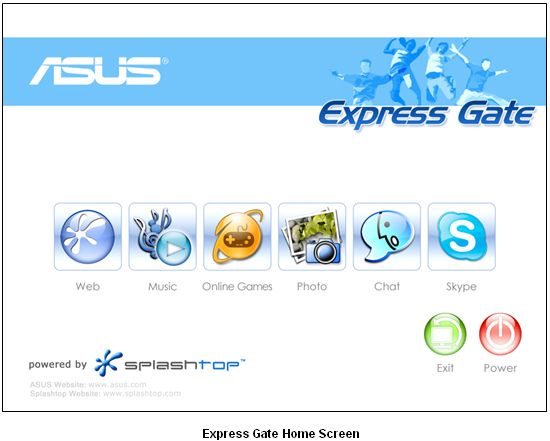 The Asus Eee PC 1008P already made an appearance though the FCC, but it appears that Asus will also be launching the Eee PC 1005P, powered by the next-generation Intel Pine Trail chipset. The model number was spotted on the Asus support site, which means it'll probably be a matter of time before it makes an appearance.
Also, according to the BIOS drivers it will also come with the instant-on OS from Asus called ExpressGate, which utilizes Splashtop. The instant-on operating systems haven't really become a must-have feature in netbooks, but it looks like manufacturers are still trying to push them. Hopefully, we'll hear more on the 1005P and 1008P netbooks at CES in January.
Via Netbook Italia.
November 26, 2009 at 10:17 am
We have already seen some elements of the Litl OS used in its Webbook device a couple of weeks ago. The company has now given a more detailed video demonstration of the 'Channels' feature within Litl OS.
As a quick reminder, Litl OS is a custom operating system that presents the interface as a stack of cards. These cards are classified in three channels: Blue denotes the "permanent" cards and includes settings. White denotes the web cards, such as Mozilla whilst the black cards are channel headers and can be thought of as widgets (clock, weather etc). Read more