April 7, 2010 at 12:12 pm
Netbooks and tablet devices will see the fastest growth in the total portable PC market according to DisplaySearch. The total portable PC market will grow by 26 percent to 215 million units ($117 billion in revenue). They expect over 5m tablets will be sold by the end of the year, driven by sales of the Apple iPad. It also believes tablets will take market share away from netbooks and e–readers.
Revenue growth in the tablet category is expected from higher ASPs (average selling prices). The netbook category has seen ASPs lower from $400 to around $300, however with the Apple iPad expected to be the main player in the tablet segment ASPs are expected to benefit. The price of the iPad starts at $499 to +$800, which should lead to healthier margins to those products that can mimic "Apple's content library, model of content delivery, and their very successful App Store." Click through for unit and revenue tables. Read more
Park this firmly in rumour territory for now, but another major manufacturer is looking to jump onto the tablet bandwagon. TheStreet.com is reporting that Ashok Kumar, analyst at Rodman Renshaw, has sources indicating that Nokia is working suppliers and design manufacturers on a touchscreen tablet.
"Right now the supply chain is being primed up for a fall release. It has to be on the shelf by September-October to meet demand for the holiday window," says Kumar.
The news wouldn't be a surprise given the publicity surrounding tablets at the moment. Unwired View suggests that a MeeGo tablet is unlikely this soon and Windows 7 is more probable if Nokia were to release a tablet this year.
April 6, 2010 at 12:50 pm
ICD has revealed their latest tablet dubbed Gemini that is one of the most fully featured yet seen. It will be armed with the 1GHz Nvidia Tegra 2 chipset, Android OS and comes with an 11.2-inch (1366 x 768) mutlitouch panel (both resistive and capacitive supported).
Two cameras are included in the package (2MP on the front and 5MP autofocus on the back). Additionally, it has a 5-axis accelerometer, GPS, FM radio, 4GB of Flash storage and a 32GB-supporting SD card slot.
Other features include HDMI, micro USB, 3.5mm headphone socket, integrated 3G, Wi-Fi (b/g/n) and Bluetooth 2.1. Pricing and availability remain a mystery for now. Check out some more pictures and a comparison chart after the cut. Read more
April 6, 2010 at 11:32 am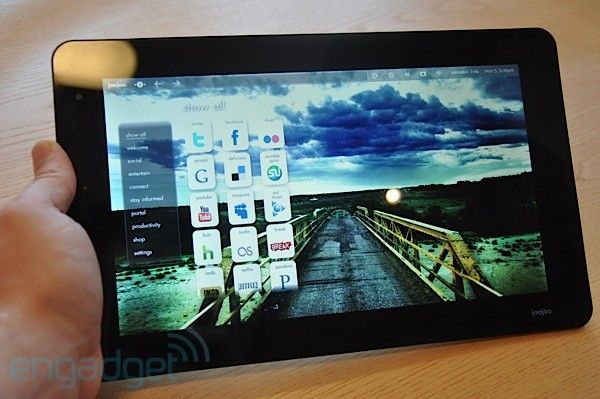 The JooJoo 12-inch capacitive tablet is finally shipping to customers and Engadget has the first review up. Overall they found it difficult to recommend the $499 tablet, especially considering the coinciding launch of the Apple iPad. They felt the JooJoo ships with "half-baked software" that makes it unintuitive to use.
On the positive side, they did like the hardware design, but says the JooJoo has a worse screen than the iPad and is also less portable. They suggest the price-point needs to be re-evaluated as well it needing software updates aplenty. On this front, Fusion Garage is apparently promising a "near-weekly update schedule" that will hopefully bring with it hardware-accelerated Flash support. You can read the full review here.
Not to be overshadowed by the glut of Apple iPad news over the last few days, HP is trying to remind the world that there are other tablets that are due to hit the market. It has released a very short video of the HP Slate that shows off the tablet's user interface, webcam and (ironically) the ability to play iTunes.
The UI looks broadly similar to HP's TouchSmart software and does a good job of skinning Windows 7. The Slate is shown running iTunes along with a USB cable that looks like it's from Apple, perhaps highlighting iPhone/iPod sync functionality. There are still no details on pricing or availability right now, but check out the teaser video for the latest on the Slate. Read more
April 2, 2010 at 10:21 am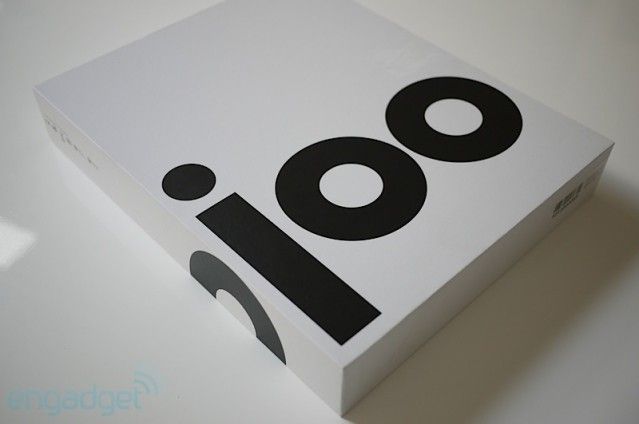 It looks like the 12.1-inch capacitive JooJoo tablet is a reality after all. The first units are shipping to customers and Engadget managed to get hold of a retail model to unbox.
You can check out some of the unboxing pictures after the break, but they also have a video that walks through the UI. Engadget is promising a review next week, but until then you can check out the video below. Read more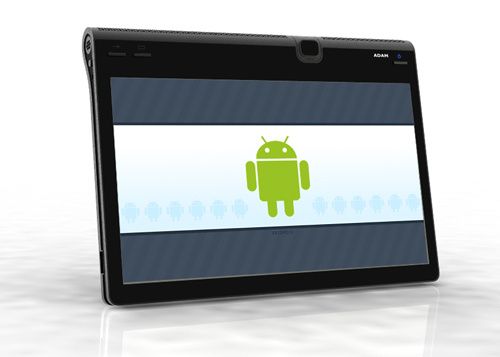 The Nvidia Tegra 2 chipset that was heavily shown off at the Consumer Electronics Show in January, mostly in numerous tablet devices, is suffering "some serious issues" relating to stability according to Slashgear. This is causing a delay in the production pipeline for many companies looking to incorporate the chip into their products.
Devices that were expected to hit the market in June 2010 have now been delayed to August at the earliest. This includes projects such as the much anticipated Notion Ink (delayed to Q4 2010) and Compal (delayed to mid-September) tablets. This can only be good news for the Apple iPad that will have the market to itself for even longer.
March 31, 2010 at 1:42 pm
The Apple iPad is set to launch officially later this week, perhaps changing the perception of tablet devices forever more. It's no surprise that a number of manufacturers will jump onto the tablet bandwagon later this year. One of them is Asus that is set to launch "at least two" tablet devices in the coming months, most likely at Computex in Japan.
"Netbooks are the best combination of personal computing and cloud computing," said Jonney Shih, chairman of Asus. "But between netbooks and smartphones and e-readers, we think there will be a space for something like a tablet or slate PC." Read more
March 25, 2010 at 5:40 pm
After a short delay, the JooJoo tablet with 12-inch capacitive display has finally started to ship. The people that have been pre-ordering the device since last December will get their shipments first with deliveries expected by March 29. I imagine that new orders will ship soon thereafter.
This is a day that I'm sure many didn't expect to see, especially with all the legal wranglings with former partner TechCrunch. It's good to see them getting out of the gate before the iPad behemoth devours all. Read more
March 24, 2010 at 12:24 pm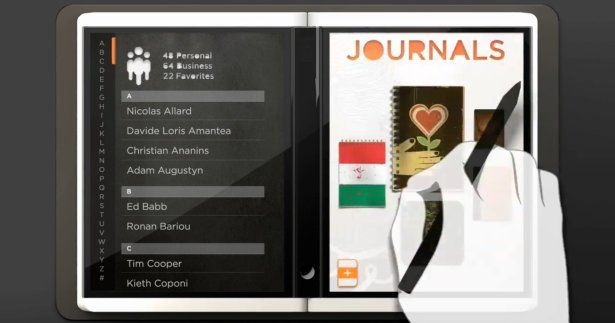 The Microsoft Courier is rumoured to be a dual-screen device powered by the Nvidia Tegra 2 chipset. Supposed pictures of the Courier were leaked at the beginning of the month, although Microsoft has stayed quiet on its existence.
However, in the first sign from Microsoft that this thing even exists appeared on the Microsoft Careers JobsBlog page. A post on the site about innovation inadvertently mentioned "the upcoming Courier digital journal" when talking about other MS tech including Natal, Windows phone 7 and IE9. The reference as since been deleted, but you can catch a screencap of the evidence after the cut. Read more
March 20, 2010 at 9:15 am
More information on the HP Slate is beginning to leak out. We are now hearing that the HP Slate will be priced at €400 ($540, £360) according to Spanish publication Clipset. The device is expected to be formally announced in June and will hit retail "before Septemer", at least in Europe.
Specifications will include an Atom processor, Windows 7, Adobe Flash support, card reader, webcam along with USB connectivity. Looks like the Apple iPad will have some competition on its hands.
Via Engadget.
March 16, 2010 at 10:24 am
Samsung is planning to launch its own slate tablet device in the second half of 2010 according Philip Newton, director of Samsung Australia's IT division. In a dig towards the Apple iPad, Newton says that this tablet will have enough processing power to be a "primary device" for most people along with desktop docking.
"The problems I see with the iPad are its processing power and (lack of) connectivity to a certain extent" said Newton. "I do feel that that slate-type platform has legs but I think the legs need to be far more powerful, for example an Atom-based product which has far greater flexibility, not to mention inputs and outputs. This has more potential than an iPad." Read more
March 15, 2010 at 9:08 am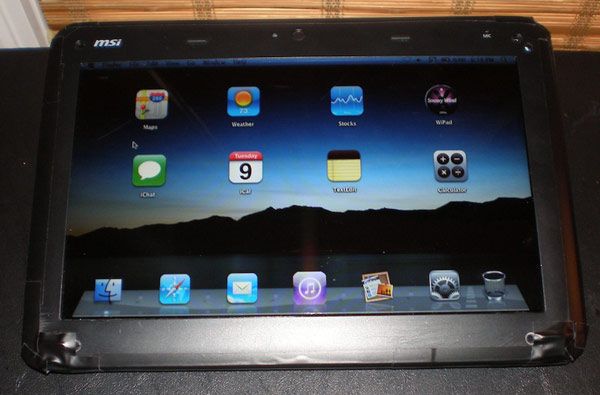 An intrepid modder has come up with an innovative mod that turns the MSI Wind U100 netbook into a tablet device complete with hackintosh OS X operating system and customised UI. The mod involves removing the keyboard and then mounting the LCD where the keyboard once was.
As the modder alexbates says, this mod enables you to "build an iPad with 10 times the storage, twice the speed, external video (VGA), webcam, USB ports, and built-in multi card reader, all for $350." Hopefully a video should be available in due course, in the meantime you can find all the details on this mod here.
Via Engadget.
March 14, 2010 at 4:58 pm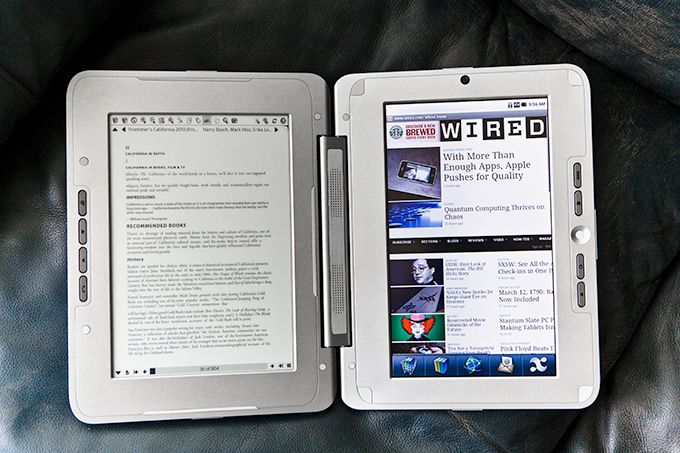 The Entourage Edge is an interesting device that maybe points to a new form-factor we'll start to see more of going forward. The $499 Edge combines two displays, one with a 9.7-inch e-ink screen and the other with a 10.1-inch (1024 x 600) colour LCD. It uses the Android operating system and comes with a SD card slot, SIM slot, two USB ports, Wi-Fi (b/g) and costs $499.
A number of sites have reviewed the Entourage Edge recently and the general consensus seems to be that it gets a lot of things right, but it is still let down by its awkward design, heavy chassis and sluggish processor. Check out snippets from some recent reviews after the cut. Read more
March 14, 2010 at 12:20 pm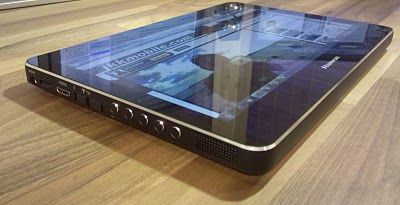 The Hanvon TouchPad BC10C tablet is one of the most desirable that we've come across. The 10-inch tablet has a flush glossy display and comes with a 1024 x 600 resolution capacitive screen, HDMI, two USB ports and a SD card slot. It is powered by a 1.3GHz ULV 743 processor, 2GB RAM and storage starting at 250GB HDD.
JKKMobile has put one the test in a video review that you can find after the jump. It will be available from March 24 with prices starting at $877 in China. European and US pricing has still to be set. Check out the video after the break. Read more