March 17, 2010 at 8:08 am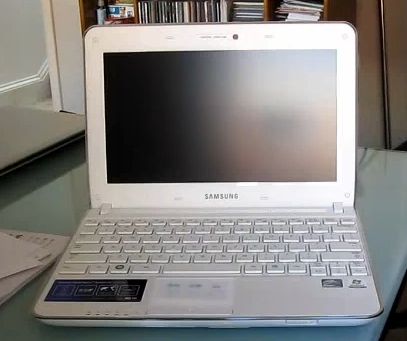 The Samsung N210 is one the company's premium Pine Trail netbooks. The 10-inch (1024 x 600) netbook is similar to the N220 but lacks the subwoofer, two-tone lid and the Broadcom Crystal HD media accelerator (only in UK machines).
Brad from Liliputing has unboxed the Samsung N210 and seemed to like the fingerprint-proof lid design, despite the glossy finish. It also comes with a chiclet keyboard and matte display. The touchpad looks similar as those used in older models. Check out the unboxing video after the jump. Read more
March 15, 2010 at 8:05 pm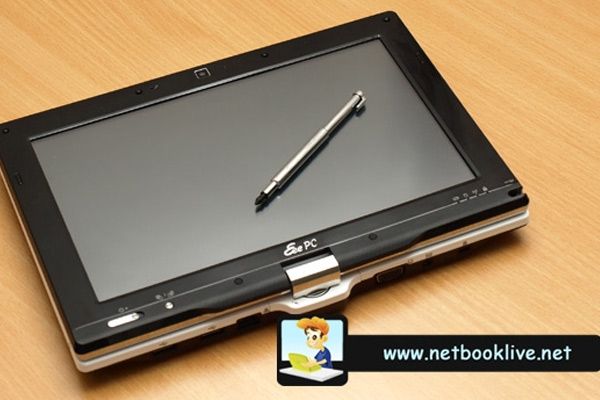 We've already seen the Asus Eee PC T101MT convertible tablet being handled by Mike over at NetbookLive recently, but that was a pre-production model. He has since been lucky enough to get hold of final hardware and there has been some improvements.
Performance is still sluggish, however the touchscreen accuracy appears to be much better both with stylus and finger use. You can check out the comprehensive video review after the cut. Read more
March 14, 2010 at 5:12 pm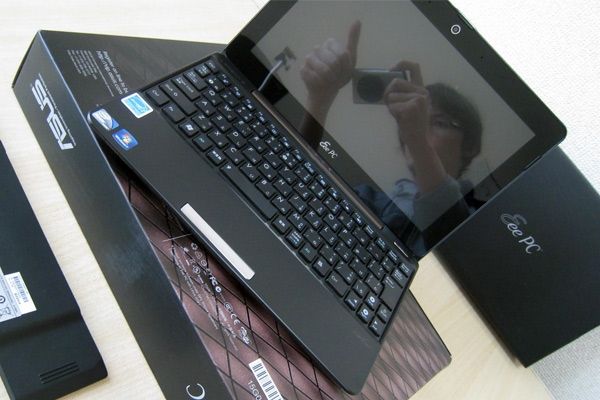 The Asus Eee PC 1008P-KR Karim Rashid netbook is one of the premium offerings from Asus, well at least until the Eee PC 1018P is released. It sports the designer's influences, mainly on the exterior. Peter from Netbooked has taken one for a test drive and shot an unboxing video.
The model unboxed comes with 2GB RAM, 320GB HDD and Windows 7 Home Premium. He also confirms that the unit does come with two batteries, although this is region specific and I'm unaware of such generosity in the UK market. Another nice features is the flush display. Build quality so far seems above average along with a firm keyboard. Check out the unboxing video of this $500 netbook after the jump. Read more
March 14, 2010 at 12:20 pm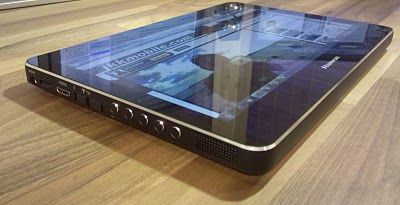 The Hanvon TouchPad BC10C tablet is one of the most desirable that we've come across. The 10-inch tablet has a flush glossy display and comes with a 1024 x 600 resolution capacitive screen, HDMI, two USB ports and a SD card slot. It is powered by a 1.3GHz ULV 743 processor, 2GB RAM and storage starting at 250GB HDD.
JKKMobile has put one the test in a video review that you can find after the jump. It will be available from March 24 with prices starting at $877 in China. European and US pricing has still to be set. Check out the video after the break. Read more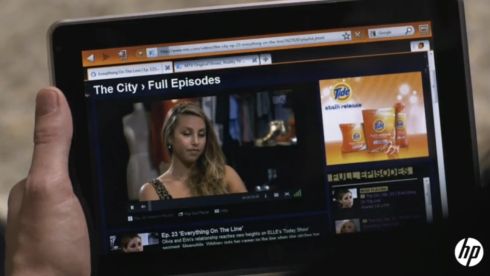 The HP Slate tablet is an enigma in many ways. Ever since Steve Ballmer showed it off at CES earlier this year, it's only appeared in a few videos with most of the hard information still under wraps. Anyway, whilst we wait, a couple of new videos give us more insight into its functionality.
The first, from Adobe, shows off the HP Slate's Flash and Air capabilities in Windows 7. Engadget highlights that the Slate is hardware accelerated, which could mean it comes with a Broadcom Crystal HD card or going further, it might even have an ION chip inside. HP has also posted another marketing video. You can check out both after the jump. Read more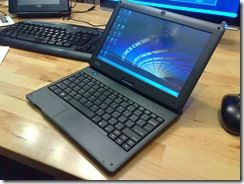 The Viliv S10 Blade convertible netbook recently saw pre-orders open and whilst we wait for the device to ship, Chippy from UMPC Portal has received a final pre-production sample and given a video walkthrough of the device.
As such there's no formal retail packaging, so it's not a traditional unboxing video par se. Initial impressions are that the S10 has good build quality, a fast SSD and very good 3G reception. He suggests turning off Windows Aero as it seriously affects the performance of the netbook. Check out the video below. Read more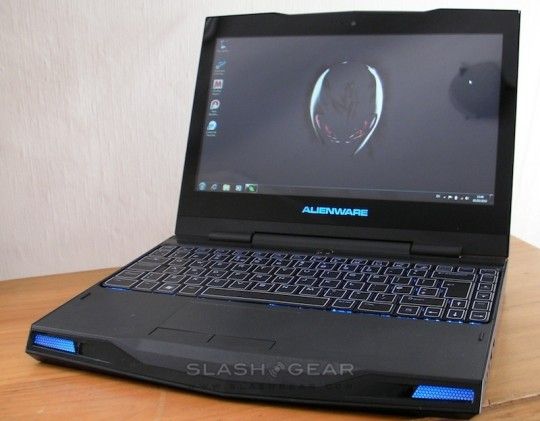 The Alienware M11x is probably one of the most advanced 11.6-inch ultraportables on the market right now. Whilst we have already seen a very positive review, we were yet to come across an unboxing video. Slashgear has stepped up to the plate and have shown exactly what you get packaged with the M11x.
The model tested comes with a 1.3GHz SU7300 Core 2 Duo processor, 4GB DDR3 memory and a 256GB SSD. Graphics is taken care of by a GeForce GT 335M with 1GB of dedicated memory. Initial impressions are that it is all solidly built but the casing is a real fingerprint magnet. Battery life is said to last for 8.5 hours although this hasn't been tested yet. Check out the video after the break. Read more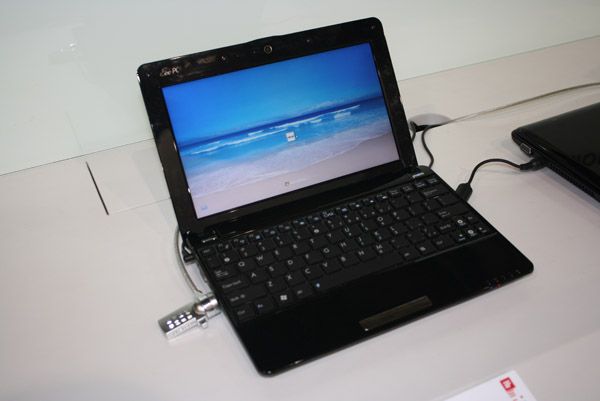 The Asus Eee PC 1005PR was already spotted at CeBIT earlier this week and comes with a high-resolution (1366 x 768) display. Notebook Italia has now spotted that this netbook may end up coming with a Broadcom Crystal HD media crystal accelerator card pre-installed.
The 10.1-inch netbook comes with a 1.66GHz N450 Atom processor, 1GB RAM and 250GB HDD. The Broadcom Crystal HD card means 1080p video content should be no problem, although don't expect the same performance with gaming. Check out a video of this in action after the jump. Read more
March 2, 2010 at 11:11 pm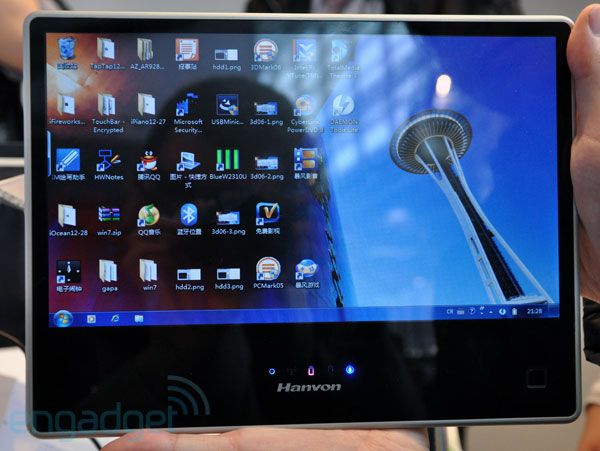 Hanvon has presented two Windows 7 Home Premium tablets, the Touchpad BC10C and BA10E at CeBIT in Germany. Both models sport a 10.1-inch (1024 x 600) multitouch capacitive display.
The BC10C is powered by a 1.3GHz Intel Celeron ULV743 CPU and is the bulkier tablet of the two. It comes with 2GB RAM, a 250GB HDD, Wi-Fi, Bluetooth, HDMI as well as an optical mouse.
The BA10E will come with an active digitizer and electromagnetic stylus (to register commands on the capacitive display). It will be powered by a 1.6GHz Z530 Atom processor, 1GB RAM and a 120GB HDD. Prices are expected to start at €500 when these tablets ship at some point in the future. Availability is unknown at present. Check out some hands-on videos below. Read more
March 2, 2010 at 10:24 pm
Intel has announced a new Classmate PC with a convertible chassis design. The Intel Atom Pine Trail processor powers the new 10.1-inch (1024 x 600) Classmate, along with increased memory and storage to give it full PC functionality. It comes with a resistive touchscreen display.
The Classmate has several features including enhanced e-reading capabilities, a built-in rotational camera, Wi-Fi and an optional 6-cell battery will give the unit up to 8.5 hours of battery life. It supports several mainstream ebook formats including pdf and ePub. Read more
The last time we saw some benchmark numbers for Nvidia's next-gen ION, it seemed to suggest that the performance wasn't up to the original. Following the official new ION announcement this morning, we now know that two ION versions are hitting netbooks. An 8-core version for 10-inch netbooks and 16-core version for 12-inch ones.
It is safe to say that the Asus Eee PC 1201PN will sport 16-core ION and Notebook Italia has managed to conduct a benchmark to give us an idea as to where performance sits. Using the 3DMark06 benchmark, they managed to record a score of 2,013. This compares to a score of around 1,580 3DMarks for the Asus Eee PC 1201N. Read more
Gigabyte is set to announce a number of new netbooks at CeBIT that officially begins tomorrow. The T1000P already made an appearance on Gigabyte's official website last week, so there's not too much we don't already know. It is the Pine Trail update to the 10-inch T1028 TouchNote that also sports a chiclet keyboard.
Two versions are due, the T1000X has a 4-cell 4500mAh battery and weighs 1.3kg (2.9lbs). The more expensive T1000P will have a N470 Atom CPU, multi-touch display, 6-cell 7650mAh battery and weighs 1.48kg (3.3lbs). JKKMobile has a hands-on video of the T1000P that we've attached below. Read more
February 27, 2010 at 5:31 pm
The Acer Aspire One 532G is the world's first 10-inch netbook to be armed with next generation Nvidia ION graphics. It was announced last week at the MWC show in Barcelona and we managed to get hands on with the device at a press event in London earlier this week.
The AAO 532G is expected to launch in late April/early May and will come in two configurations. The 1GB RAM/160GB HDD combo will cost £349, whilst a 2GB RAM/320GB HDD combo will cost £399. These prices are not set in stone and depending on exchange rates may end up costing another £30 more. However, Acer is keen not to price the higher end SKU above £400 if they can help it. Read more
February 25, 2010 at 10:26 pm
The 10-inch Asus PC T101MT convertible netbook is not even officially released yet, but the folks at NetbookLive have already got hold of one and documented their initial impressions as well as treating us to some unboxing pics. The version they are playing with comes with a 1.66GHz N450 Atom processor, 2GB RAM and a 320GB HDD. First thoughts on the resistive multitouch display is that the response is slightly poor, however further testing is needed. A full review is expected in the next few days.
AllTouchTablet also has some initial impressions on the Eee PC T101MT. Build quality seems strong and the chiclet keyboard has little flex. They also talked of a lack of precision on the touchscreen, mainly at the edges. Performance was also found to be sluggish. Check out a couple of hands on videos from them after the jump. Read more
February 24, 2010 at 8:49 am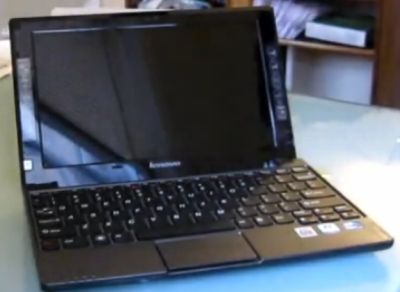 Most of our coverage on Lenovo's third generation of netbooks has concentrated on the S10-3t convertible tablet. Whilst reviews of the S10-3 have already surfaced, we hadn't seen an unboxing video for you to pore over. Brad from Liliputing has stepped forward and given their first impressions of the device.
He says that the Ideapad S10-3 is one of the "slickest" netbooks seen in a while with its matte textured lid, chiclet-style keyboard, brushed metal feel of the palm rest and integrated mouse buttons. Click through for the video. Read more