March 26, 2009 at 12:06 pm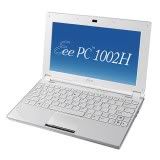 A new 10-inch Asus netbook has just appeared on its official site. The confusing model names continue with this new netbook dubbed the '1002H' (we already have the 1000, 1000H, 1000HE, 1002HA as well as the upcoming 1008HA!) Now from what I can tell, the 1002H is nearly identical to the 1002HA. The way in which it differs include a 1.66GHz Intel Atom N280 CPU on the 1002H, compared to the 1.6GHz N270 CPU on the 1002HA. The 1002H also comes with a 92-percent sized chiclet-style (254mm) keyboard, compared to a normal keyboard on the 1002HA.
The other main difference is down to the styling. The chassis uses infusion technology which means that the Eee motif is inlaid within the laptop surface itself. The whole chassis is also coated in a scratch resistant and hard-coated surface which means that the design should not fade over time. The 1002H will come in three colours, Pearl White, Pink, Black.
The rest of the features are identical to the 1002HA. It has a 10-inch (1024 x 600) LED backlit display and comes with 1GB RAM and a 160GB hard-disk drive plus 10GB of online Eee storage. The trackpad also has multi-touch gesture input. It has the same weight (1.2kg) and dimensions (264mm x 181mm x 27.6mm) too. Battery life stands at 5 hours, same as the 1002HA. Other features include WiFi (b/g/n), Bluetooth 2.0+EDR, a 1.3MP camera, digital microphone array and stereo speakers. There's also a VGA output, three USB 2.0 ports, an ethernet port, audio in/out and a multiformat memory-card reader. Pricing and availability are unknown at this time. Click through for a full gallery of pictures. Read more