April 21, 2009 at 3:26 pm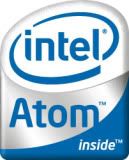 If I were to say that there is a lack of hardware variety powering most netbooks today, it would be an understatement. I've written the following line 'N270CPU, 945GSE chipset, 1GB RAM, 160GB hard-drive etc' so many times now that it is ingrained into my cerebral cortex. Two particular pieces of netbook tech I've been following closely are Nvidia's Ion platform and Intel's GN40 chipset, which are both meant to be much more powerful than the aging 945GSE chipset.
The first netbook that is due to appear with the Intel GN40 is the Asus Eee PC 1004DN, Asus' first with embedded optical drive. Gigabyte also plans on releasing the TouchNote T1028P which will also support the chipset. HKPEC has managed to get hold of a 1004DN and put it through a number of benchmarks to see what the N280 CPU plus GN40 chipset combo was capable of. Unfortunately, it seems that the GN40 is not that much of an improvement over the 945GSE chipset. Read more
April 13, 2009 at 11:00 am
Fingerprint sensors already appear in quite a few laptops, but so far it is a feature that has remained absent from netbooks. Asus' first Eee PC with optical drive, the 1004DN is the first netbook to include this technology and according to AuthenTec it won't be the last. Read more
April 9, 2009 at 11:18 am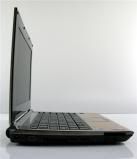 Australia's PC Authority has managed to get hands-on with the Eee PC 1004DN, Asus' first netbook with embedded optical drive. Interestingly, they also revealed that the 1004DN has an Australian RRP of AUD1399, the first time we have an idea on pricing. This converts to roughly $995/€750/£680 so it certainly will not be cheap if the 1004DN ends up coming to the US/Europe.
Starting off with the chiclet keyboard, they found the comfort level was good with a good response, despite the rattle of the keys (something which a number of chiclet keyboards suffer with). The same couldn't be said of the trackpad which they found to be "sticky and unresponsive". Read more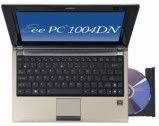 Asus is set to launch its first netbook with optical drive, the Eee PC 1004DN, over the next month. Initial comments from Asus' PR people in the UK and US suggest that the unit is unlikely to make it to western shores unfortunately. Despite this, the 1004DN remains an interesting netbook even if only to serve a sign of things to come. The manual for the 1004DN recently appeared online and browsing through it revealed some new information about the optical-drive netbook. Read more
The Asus Eee PC 1004DN is the company's first netbook with an in-built optical disk drive. Some sites have bemoaned the fact that this can't be a netbook as it has an optical drive, it's not a view I share. As long as technology miniaturisation doesn't end up being counter-productive then I'm all for it.
We revealed the full specifications last weekend, however we have since learned that the 1004DN is unlikely to make it to western shores. Asus PR reps in both the US and UK are saying that there are currently no plans for a 1004DN launch. This may change at some point, but until then, this is likely to remain an Asian release only. For those that are interested you had better speak to your local importer.
March 28, 2009 at 1:54 pm
The Asus Eee PC 1004DN is the company's first netbook with an in-built optical disk drive. It was first spotted at CES earlier in the year, however not everything that turns up at CES becomes a reality. It is of course, not the first netbook to come with an optical disk drive. Japanese manufacturer Kohjinsha has done it with its SX line, and JVC made a mobile mini notebook with DVD as well. But the Kohjinsha model isn't available outside of Japan, and JVC's offering is dated.
Yesterday's news that the 1004DN is expected to launch in April brought a commercial release that one step closer. The move is likely to blur the line between netbook and notebook even further. Today we have managed to get our hands on a full list of technical specifications on the 1004DN. Click through after the break for the full detail and the first official press shot. Read more