The latest line-up in Asus' Seashell series, the Eee PC 1005HA netbook is now shipping in the United States through Amazon.com
. There are two main SKUs being sold and it is important to recognise the difference between both series as there is quite a difference between them.
The more expensive Eee PC 1005HA-P at $389.99
comes with the 1.66GHz N280 Atom processor, Bluetooth 2.1+EDR, a 1.3MP webcam, a higher capacity 6-cell battery (5600 mAh) good for 10.5 hours and a netbook sleeve. This version also comes with a glossy screen. Read more
June 23, 2009 at 11:38 pm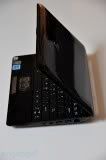 The Asus Eee PC 1005HA netbook was officially launched in the US market today. Two SKUs have been announced, the 1005HA-V and 1005HA-P. The 1005HA-V comes with the 1.6GHz N270 Atom processor, a smaller capacity 6-cell battery and no Bluetooth. The 1005HA-P has the faster 1.66GHz N280 processor, a higher capacity 6-cell battery and Bluetooth. Overall, the Eee PC 1005HA is part of the Seashell family and therefore shares the design seen in the super-thin 1008HA Seashell.
It differs mainly be having a removable battery as well as a full-sized VGA port. You won't find any flaps covering the ports on the 1005HA either. To account for the removable battery, the 1005HA is marginally heavier and thicker than the 1008HA. A number of publications released their reviews of the 10-inch Eee PC 1005HA netbook today. Read more