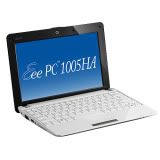 The Asus Eee PC 1005HA Seashell netbook was officially announced last week by Acer France. The netbook now has its official product page listed on the Asus Global site including full technical specifications and official press shots.
Whilst the product page doesn't explicitly mention two different 1005HA SKUs, as mentioned by last week's announcement (1005HA-H and 1005HA-M), the specs do suggest that this will be the case. There is an option for N270/N280 Atom CPUs, a 1.3MP or 0.3MP webcam and two different 6-cell battery options. Read more
Asus has released a promotional video for the newly released Eee PC 1008HA Seashell netbook. Set to a funky music back drop, you won't learn too much more than you probably already knew. However, it sets out the 1008HA Seashell in various angles and clearly tells you some if its key features. We are very much looking forward to getting hands-on ourselves at some point soon. Check out the video after the jump. Read more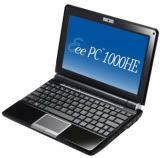 We recently reported that Acer UK are planning to slowly withdraw the best-selling Asus Eee PC 1000HE to re-focus the Eee PC line-up to just 3 models by July. These models will consist of the recently launched Asus Eee PC 1008HA Seashell, 1005HA and an as yet unannounced model.
Well it appears that the same may be happening in France, after Blogeee got confirmation that the Eee PC 1000HE will also be phased to make way for the new range of netbooks. Unlike the UK, it appears that the marketing for the upcoming Eee PC T91 convertible tablet will be unchanged for France.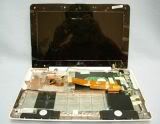 The Asus Eee PC 1008HA Seashell netbook had already hit the FCC over a month ago, however at the time there was limited information. There were no test photos of any kind (internal or external) and not even a manual. A confidentiality agreement deprived us of all the juicy details.
Moving forward six weeks, the 1008HA Seashell has already been released in the UK and US shipments are expected next week. One would think there is little else to find out. However, the FCC site has now updated the 1008HA page to include all of the test pictures including its internals exposed. Read more
Asus is currently running a promotion in the US and Canada, whereby if you pre-order the Eee PC 1008HA Seashell netbook you will receive a $20 discount. This means that you can pick up the 1008HA Seashell for the discounted price of $409.99 in the US or CAD$509.99 in Canada.
Having a look at a few US retailers, pre-orders at most of the major sites seem to be open. Amazon has both the black
and white
versions on pre-order at the discounted price of $409.99. Newegg
only has the white version on pre-order but at the normal price of $429.29. However, ZipZoomFly has the cheapest pre-order price I've seen at $399.99. According to Engadget, Asus expects retailers to deliver the white Seashell by the 27th May with the black version following a day later. Check out a screen grab of the promotion after the break. Read more
We have often lamented the sheer number of different Eee PC netbooks that Asus offers, complete with confusing naming structure. It becomes difficult from a marketing point of view given the confusion it causes to the public and it can even end up diluting the brand. It seems that Asus UK agrees, it will be offering just three Eee PC netbooks to the general public come July according to Reg Hardware.
Asus' John Swatton told them that only the 1008HA Seashell, the 1005HA (which was only announced today) and an as yet unnamed model will complete the UK line up. It does beg the question, what happens to the Eee PC T91 net tablet? According to Swatton, the 7-inch and 9-inch models will be reserved for sales to schools and other large organisations. Somehow, I find that hard to believe, especially given the amount of interest surrounding this particular 9-inch convertible tablet. Will Asus really restrict the sale of the T91 to the public? It seems a very odd move if true. Read more
A few days back we came across evidence from the Asus support pages that the company was planning to launch a little brother to its 1008HA Seashell netbook. Well this has now been officially confirmed by Asus France who has presented some official specifications, press photos, pricing and launch details for two new Seashell models, the Eee PC 1005HA-M and Eee PC 1005HA-H. Read more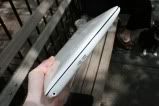 Whilst here in the UK we are looking forward to the Asus Eee PC 1008HA launching tomorrow, details on the US launch have been very quiet up until now. Asus has now officially confirmed that that the 1008HA Seashell will launch for $429 when it hits the US later this month, with pre-orders starting on 18th May.
The specifications should be familiar to most by now. The 10-inch (1024 x 600) Seashell is set to become one of the most desirable netbooks on its release with its 1-inch thickness and 1.1kg weight. The specs aren't too shabby either, with a 1.66GHz N280 CPU, 1GB RAM and 160GB HDD and wireless draft n. Asus claims that its in-built battery should last for around 6 hours.
A few sites including Gizmodo, Laptop Mag and PC World have some hands-on impressions that are worth checking out. It will launch here in the UK tomorrow for £379 and in Europe for €399.
Asus is looking to follow the Eee PC 1008HA Seashell with another netbook using the 'Seashell' brand name later this summer. The Asus Eee PC 1005HA will be very similar to the 1008HA in looks and specs but will come with a removable battery as opposed to the sealed battery found in the 1008HA.
A firm release date for this hasn't been given, although we understand that it is expected to launch within the next couple of months. The 'Eee PC 1005HAB' is already listed on the official Asus support pages although there are no documents there for now.
A quick search on Google highlights a number of European retailers already listing the 1005HA-M for pre-order. According to the specs listed, the Eee PC 1005HA will come with a 6-cell (2200 mAh) Li-Polymer battery as opposed to the 4-cell battery in the 1008HA. This means that it will end up weighing 1.4kg as opposed to the 1.1kg for the 1008HA. This new Seashell will come with three USB ports as opposed to the two found on the 1008HA.
Other than that, the specs are the same. It has a 10-inch LED backlit display with resolution of 1024 x 600 pixels. It will be powered by a 1.66GHz N280 Atom CPU, 1GB RAM and a 160GB HDD. Our sources indicate that the 1005HA could be priced as low as £349 on launch. The current European pre-order pricing is between €350 and €400. We'll bring you more information on this as we have it.
Asus looks like it is onto a real winner with the Eee PC Seashell netbook. It marries performance and strong battery life without sacrificing design and a slim form-factor. The official UK launch will be this Friday 15th May with the official price at £379.
Just in time for the launch, it looks like Asus Global has updated its site, with the 1008HA Seashell netbook product page now live. About time too, as we've already seen the 1008HA manual, an unboxing and even a couple of reviews!
There isn't any surprises that I can see from the listing, although it does look like Linux will be an option along with Windows XP. We've attached the full specs after the break.
Asus is having a special event to celebrate the Seashell's launch, if you are interested head over to Tottenham Court Road, London at 10AM. There's even a chance to win one for those that attend. Read more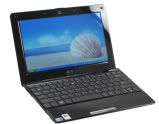 Whilst Asus' Eee PC 1008HA Seashell netbook is not set to hit UK retail until May 15, two reviews have already popped up, from TrustedReviews and What Laptop. The general theme across both reviews was positive with What Laptop viewing the Seashell as a "compelling proposition" which offers excellent mobility with the main negative point being the lack of ports.
TrustedReviews believes that the 1008HA Seashell is a very refined and classy netbook that offers excellent battery life. The non-replaceable battery may hinder some, but for others, the 1008HA may be worth the premium due to the fact that Asus has created a slim and light netbook without sacrificing functionality. TrustedReviews awarded it 9/10. We hope to be receiving a review sample at some point soon. Click through for a full summary of both reviews. Read more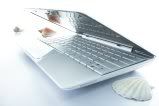 Official UK launch details regarding the Asus Eee PC 1008HA 'Seashell' netbook has finally been revealed. The Eee PC Seashell will be available in stores from 15th May 2009 with a suggested retail price of £379 including VAT.
To celebrate the launch, Asus will also be giving away one Eee PC Seashell each week during its launch period. Details are set to appear at this link, although there's not much there right now apart from "Coming soon – Eee PC Seashell UK Grand Launch. Join us for the launch and the chance to win the latest ASUS Eee PC Seashell! Stay tuned."
This price is around £20 higher than was first suggested back in March. Looking around Amazon
has it on pre-order for £379.50 but it can be had for £369.97 from Laptops Direct (who this morning had it on pre-order for £349.97).
The 10-inch (1024 x 600) Seashell is set to become one of the most desirable netbooks on its release with its 1-inch thickness and 1.1kg weight. The specs aren't too shabby either, with a 1.66GHz N280 CPU, 1GB RAM and 160GB HDD and wireless draft n. Asus claims that its in-built battery should last for around 6 hours. Check out the official press shots after the break. Read more
The manual for Asus' slender Eee PC 1008HA Seashell netbook has appeared on its official support page. The manual confirms that the battery will not be user-replaceable, which means that if you do need the battery changed you will have to send it back to Asus. The 1008HA Seashell should last for around 6 hours according to the company.
Apart from that, there's not too much we didn't already know. Asus has made strange port placement decisions, where we find the VGA port under a flap on the bottom of the chassis. To maintain the sexy image, Asus has also placed ports on the left and right side of the chassis under flaps too. However, in another strange move, it has placed the battery and power charge indicators towards the rear of the chassis. This means you'll have to keep turning the Seashell around to see the lights. The manual can be downloaded here. Check out some pictures after the break. Read more
Asus' latest netbook, the elegant Eee PC 'Seashell' 1008HA has now officially launched in Taiwan. Asus released a press release which confirms that it plans to market the netbook under the 'Seashell' brand and also confirmed the full list of technical specifications.
According to The Register, the UK launch could be as early as next week. They believe that full UK pricing and availability details will emerge on Tuesday. A number of UK retailers already have the Seashell 1008HA for pre-order, but there is much discrepancy in pricing and launch dates. It was originally believed that pricing would be around the £360 mark, but current pre-orders range from £380 to £400. Some sites (Laptops Direct) put the release date as a week away whilst others (Amazon) list 1-2 months. Read more
April 21, 2009 at 2:38 pm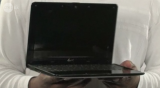 The Asus Eee PC 1008HA is definitely the most attractive netbook in the Asus 1000 series of netbooks. It takes a number of design cues from the more luxurious S101/S121 models which include a very slender form–factor. Cnet UK has managed to go hands on with a pre-production model of the 10-inch Asus Eee PC 1008HA.
They refer to it as the 'Seashell' but I'm unsure at this point whether its nickname will be used in final marketing by Asus. Overall they liked the slim styling although felt that it didn't look as sexy as the Asus S101. You can see that ports are hidden behind flaps to keep a clean look. Read more